Browse:
Home
/
christians
$postcount=0;?>
Here is the sermon preached this morning in the chapel of St. Timothy by Pastor M.N. Mntambo on the first epistle of St.Peter 2:5-10: 1 Peter 2,5-10 Have a very pleasant and blessed weekend + . . .
Read All
Posted in Lutheran Blogosphere | Tagged baptism, christians, Matins, Priesthood, sermon
Hear what Rev. Craig Donofrio has to say today!
Posted in KFUO AM (LCMS - St. Louis), Lutheran Media | Tagged Agnostic, Atheist, chad bird, christians, non religious, Reformation Rush Hour, Some of the Best People Aren't Christians
But many Christians see an atheistic motivation behind the space program.Even with the first successful landing of a spacecraft on a comet, which occurred last week, many Christians are less interested in exploring space than is the general population. This is the conclusion of a paper presented by Dayton professor Joshua Ambrosius at this year's Society for the Scientific Study of Religion gathering. Ambrosius discovered that the more often a person attends church, the less interested he is in supporting the exploration of space. Evangelical Protestants were found to be more opposed to space exploration than are Roman Catholics.Writer Jonathan Merritt discusses three "bad" reasons many Christians are against the practice. 1. Christians need to overcome their "knee-jerk" . . .
Read All
Posted in Lutheran Blogosphere | Tagged christians, fish, Ham, Space
Such an event could affect the thinking of some, but not all, believers.In a new book, Religions and Extraterrestrial Life, author David Weintraub, an astronomer at Vanderbilt U., considers what a discovery of extraterrestrial life might do to religiou…
Posted in Lutheran Blogosphere | Tagged christians, Life
The Spirit of the Lord GOD is upon me, because the LORD has anointed me. (Isa 61:1 ESV) For all who are led by the Spirit of God are sons of God. (Rom 8:14 ESV). . .
Read All
Posted in Lutheran Blogosphere | Tagged christians, Church, Jesus Christ, sons of God, Spirit, Trinity
Aaron Wolf of Chronicles magazine Chronicles Magazine
Posted in Issues Etc | Tagged Caliphate, christians, Iraq, ISIS, Islam, Neoconservatives, Podcast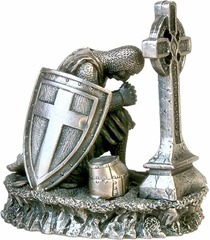 Myth: Persistent prayers move God to action. We often believe that if we pray long enough, God will finally give in to our prayers. We think that we are just one prayer away from getting him to give us what we feel we need. Myth: Particular prayers move God to action. We often think that if we just prayer the right prayer God will answer us. Sometime the Lord's Prayer seems like a good choice to get God's attention. Other times some other biblical prayer is promoted as the real way to get God going. Sometimes people says that only a extemporaneous heart-wrought prayer will work. But whatever it is, we come to believe that if we figure it out . . .
Read All
Posted in Catechesis | Tagged Bible, christians, Lutheran, myths, Prayer
Two groups are suing to stop implementation of the new curricula.Summary: The Kansas state Board of Education wants to implement a new state-wide set of science standards, but it is running into opposition from Christian groups. The universal set of science standards are supposed to be taught in all K-12 schools across the state. A Christian group, the Pacific Justice Institute, says the new standards could create "a hostile learning environment for those of faith." The institute, which claims to defend religious freedom, parental rights and other civil liberties, is upset the new science standards do not give equal weight to the Christian creation account. It wants a court injunction on implementing the new standards because they will "promote . . .
Read All
Posted in News | Tagged christians, Education, Science
The Lord's Supper proclaims Christ's death, and does so to the unbelieving world, even to those who are not present within the Lord's House on the Lord's Day: where Christ's chosen people gather week after week (day after day?) around the Lord's gifts, the world cannot help but notice. Where are the Christians? They are with their Lord, doing what He commands, receiving what He promises. Is there are greater witness, a greater testimony, to the power of Christ's forgiving word than Christians who actually believe it? Christians who "share Jesus" with their friends and relatives, but who often find other things to do when the rest of Christ's Body is gathered in His House, speak a contrary and undermining . . .
Read All
Posted in Lutheran Blogosphere | Tagged baptism, Christ, Christianity, christians, jesus, lord's supper, Theology, Witness
A group of atheists posts a video in which they attack Ham's planned speech at a home school conference. ******************************************************************** In observance of MEMORIAL DAY – USA "The Land of the Free and the Home of the Brave" ******************************************************************** Summary: A two-hour video by a group of atheist Internet users has Ken Ham of Answers in Genesis really upset. In the video titled "Home School Abuse by Creationists," the atheists said they planned to oppose Ham's planned speech at the Texas Home School Coalition Convention on Aug. 1-3. This conference is intended to promote home education in Texas. "Every pastor, Christian leader, homeschooler, teenager, Christian parent, and, in fact, all Christians need to see this video chat featuring a number . . .
Read All
Posted in Lutheran Blogosphere | Tagged christians, Evolution, Texas, Tornado
Yes, there are Christians who are really possessed and oppressed by demons. However, when I say Christians, I am speaking about those who do not live out the faith they claim to possess. These are usually those who are Christian by only birth, …
Posted in Lutheran Blogosphere | Tagged Africa, Bible, Christian, Christianity, christians, Church, demon, demons, evangelism, Evil, Faith, Healing, jesus, Luther, Lutheran, Lutheranism, Lutherans, Sacraments, Spiritual warfare
I always find it remarkable how many Christians are drawn to celebrate a 'Passover Seder'. Around this time of year, I usually start seeing threads popping up on e-mail lists, how this congregation or some neighboring congregation is doing …
Posted in Lutheran Blogosphere | Tagged christians, Passover