Browse:
Home
/
Reformation Day
$postcount=0;?>
Another Reformation Day has come and gone. Each year the day gives us occasion to reflect on the significance of the upheavals of the Sixteenth Century—upheavals that changed the religious, social, and cultural landscape of the West, especially the western church. What was at stake? What was it all about? Was it worth it? .. Read the rest in a new post on the
Reformation500 website
.
. . .
Read All
Posted in Lutheran Blogosphere | Tagged Erik Herrmann, Luther, pastoral care, Psalms, Psalter, Reformation Day, The Quad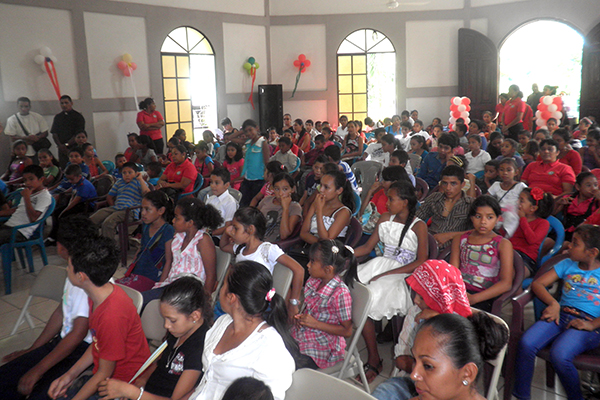 NICARAGUA – October 25th was a day of great joy for the church in Nicaragua as around 200 children and 20 adults gathered at LCC's mission centre in Chinandega to celebrate the 497th Anniversary of the Lutheran Reformation. The theme of the event was taken from Paul's letter to the Romans: "You have been set free from sin and have become slaves to righteousness" (Romans 6:18). An emphasis of the event was Martin Luther's battle for pure doctrine: for grace alone, Scripture alone, faith alone, and Christ alone. The children …
Posted in Lutheran Church -- Canada, Lutherans in Society | Tagged children's education program, Children's Ministry, Chinendega, Headline, International News, LCC, lutheran church canada, Mission News, Missions, Nicaragua, Reformation Day
Happy Halloween! Happy Reformation Day! We'll be posting on both of those holidays today. Both have reference, of course, to the really big holiday of the church year on the day after, All Saints' Day. All the ghosts and devils were thought to come out the day before All Saints' Day, since this was their
[Read More…]
. . .
Read All
Posted in Lutheran Blogosphere | Tagged All Saints Day, Halloween, Holidays, Reformation Day
31 October AD 1517 The beginnings of the Reformation came well before its birth date. Renaissance Humanism ushered in an age of classical studies, including the teaching of Greek and Hebrew. This paved the way for in-depth study of the Scriptures in th…
Posted in Lutheran Blogosphere | Tagged Aardvark Alley, biography, Christian, Christian history, Christianity, Church History, Church Year, commemorations, confessional Lutheran, European history, Evangelical, festivals, German history, Germany, Girolamo Savonarola, hagiography, historical theology, History, humanism, Johann Tetzel, Johannes von Staupitz, John Hus, John Wycliffe, lectionary, liturgical calendar, Lutheran, Lutheran orthodoxy, Lutheran Reformation, Lutheranism, martin luther, orthodox Christianity, Protestant, Protestant Reformation, reformation, Reformation Day, Renaissance, Robert Barnes, saints' days, Saxon history, Saxony, Theology, Wittenberg
For Reformation week. . . . . . Read All
Posted in Lutheran Blogosphere | Tagged Church, martin luther, music, reformation, Reformation Day
The Lutheran Order of Service for Reformation Holiday is available here in isiZulu, seTswana and English. Today it comes with a sermon based on God's word from Philippians 2:12-13 by Rev. Kurt Schnackenberg in English (WE1454141102 Reformationday) and translated as …
Continue reading →
. . .
Read All
Posted in Lutheran Blogosphere | Tagged English, foundation, Holy Spirit, Jesus Christ, Reformation Day, Uncategorized
Our pastor said that each one of us is a "filthy, rotten, putrid, maggot-infested cesspool of a sinner." But he meant it in a nice way. See his Reformation Sunday sermon, drawn from John 8:31-36, on the bondage of sin and the freedom that Christ gives. Excerpt after the jump. From Rev. James Douthwaite, St.
[Read More…]
. . .
Read All
Posted in Lutheran Blogosphere | Tagged Christ, Church, freedom, reformation, Reformation Day
My mom excelled at a lot of things. Coming up with Halloween costumes for her third child was not one of them. Maybe that's why, the year I was officially too old to be trick-or-treating and with a cold that left my head plugged from my nostrils to the back of my skull, she clapped […]. . .
Read All
Posted in Lutheran Blogosphere | Tagged Germany, Halloween, martin luther, Reformation Day
"Justification: The Heart of the Reformation" (Romans 3:19-28) Today is the last Sunday in October, and so we are observing Reformation Day. It will be 497 years ago this Friday, on October 31, 1517, that Martin Luther nailed 95 Theses to the door of the Castle Church in Wittenberg, Germany, thus setting in motion the great Reformation of the Christian church. We are the heirs of that Reformation, blessed to be so, and so we join with faithful Lutherans all around the globe in celebrating that historic event and all the blessings of pure doctrine and sound practice that came from it. How do we celebrate the Reformation? By believing in and caring about the same things that Luther and . . .
Read All
Posted in Lutheran Blogosphere | Tagged henrickson, Pastor Charles Henrickson, Reformation Day, Romans, sermon, Steadfast Sermons