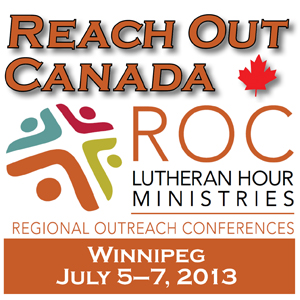 WINNIPEG – In a little more than six weeks hundreds of LCC Lutherans will gather for Lutheran Church—Canada's first-ever national evangelism conference: Reach Out Canada (July 5-7 at the Canad Inns Destination Centre – Fort Gary in Winnipeg).
Reach Out Canada is designed to help everyone share their faith naturally in every-day situations as part of who they are in Christ. The event, being planned in conjunction with Lutheran Hour Ministries and Lutheran Laymen's League of Canada, features Rev. Gregory Seltz (Speaker of The Lutheran Hour) and Rev. John Nunes (CEO of Lutheran World Relief).
In addition, Reach Out Canada will feature numerous workshops, focusing on topics as diverse as congregational evangelism, outreach for men, outreach for women, engaging pop-culture and modern technology, and immersing yourself in Scripture. Some of these workshops include:
"The Outreach Congregation: Urban/Suburban" with Stephen Klinck
"Pop-Culture Today: What's God got to do with it? with Mathew Block
"Growing Your Outreach Efforts Even When Your Community Shrinks" with Rev. Dr. Glenn Schaeffer
"Building a Globally Mission Minded Community" with Polly Gregali
"Building Cultural Differences to Share the Gospel" with Rev. Dr. Leonardo Neitzel
"Sharking the Faith in Everyday Activities" with Rev. Larry Gajdos
"Manly Tools for Faith Sharing" with Richard P. Cohrs
"'Christ Alone' in a Coexist World" with Stephen Klinck
"Sharing the Gospel in a Digital Age" with Rev. Dr. Mark Larson
"Connecting with Your Community" with Rev. Mark Dressler
"A Holistic Approach to Global Outreach" with Rev. Peter Kirby
"Funding Success! Strategies for Gaining $ Support for Mission" with Harold Melser
"Sharing Hope from Woman to Woman" with Helga Danielson
"Immersed in the Word: a Crisis Turns to Blessing" with Rev. Dr. Robert Bugbee
Visit Lutheran Hour Ministries' website for more information on workshops and the presenters.
The event will also share a plenary session with the National Youth Gathering and an outreach event at Winnipeg's most popular tourist attraction, The Forks. In addition, attendees of both the National Youth Gathering and Reach Out Canada will gather together Sunday morning for a Celebration Service giving thanks to God for Lutheran Church–Canada's 25th anniversary.
Registration is now open.
———————