VICTORIA, B.C. – Author Peggy Pedersen's first poetry book—entitled A Lamb within the Fold—was released earlier this year and is now available for purchase. Peggy is a member of Redeemer Lutheran Church in Victoria, and a frequent contributor to The Canadian Lutheran magazine both in print and online.
The book begins with an introduction chronicling Peggy's spiritual journey, which included early beginnings in the Southern Baptist church before making ventures into Shaivism, Hare Krishnas, Roman Catholicism, and Orthodox Judaism. A medical scare made Peggy return to the question of Christianity anew. Taking up her Bible, she writes, "I began to realize the depth of my sinfulness and how I had grieved God by it, especially by turning away from Him."
Around this point, God came calling after Peggy, leading her into contact with a Finnish Lutheran theology student. "When I told him I recognized my sinfulness but was not able to improve," she writes, "[he] told me that Christ had already forgiven me and received me back to Himself. It had nothing to do with being worthy. It was a gift. He came for sinners, so I qualified."
This startling revelation, made clear to Peggy for the first time, was the impetus for the collection of poems now published in A Lamb within the Fold. It begins with the award-winning poem "The Gift," a poem first published in 2010 in Tapestry, the national magazine of Lutheran Women's Missionary League–Canada. The poem received third place in the poetry category of the Canadian Church Press' 2011 awards. It is reprinted here with permission from Peggy Pedersen.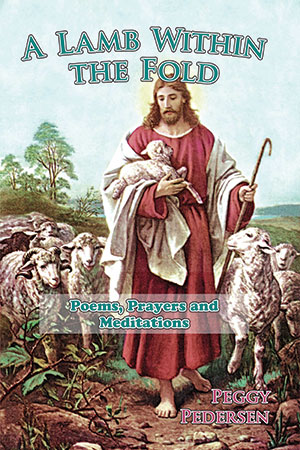 The Gift
How can I judge
When You have not judged me?
How can I withhold
When You have not withheld?
What do I have that Your love has not given?
I begged a drop of mercy.
You flooded me with heaven.
The book also contains prayers, meditations, and hymns in addition to poems. "I never intended them for publication," Peggy explains in the introduction to the book. "Yet, because the few that have seen the light of day have in some way been of benefit to others, and since I was looking for a way to make a donation to my local Lutheran Women's Missionary League, I have decided to publish them here. May God use these words to honour Him and bless others."
Peggy is donating twenty percent of all profits to her local Lutheran Women's Missionary League chapter.
To purchase a copy of A Lamb within the Fold, contact New Scriptorium Press at scriptorium@shaw.ca. The book costs $14 plus shipping (Shipping is $4.90 in Canada, $6.80 to the United States, and $10.90 to international addresses). An ebook version will made available in the coming weeks.
———————