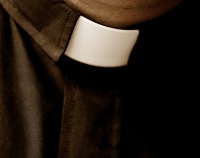 CANADA – Concordia Lutheran Seminary (CLS – Edmonton) and Concordia Lutheran Theological Seminary (CLTS – St. Catharines, Ontario) held their convocation services this past weekend, at which time graduating seminary students received their first calls. The following candidates are listed according to last name.
Pastoral candidates:
Tim Barone (Concordia Seminary, St. Louis, Missouri) to Calvary Lutheran (Thunder Bay, Ontario).
Seungwoo (Sam) Choi (CLTS), placement pending.
Tod Guggenmos (CLS) to Our Saviour Lutheran (For Qu'Appelle, Saskatchewan).
Perry Hart (CLTS), commended to the Lutheran Church of Australia, Waikerie Lutheran Church (South Australia).
Wesley Hromowyk (CLTS), commended to The Lutheran Church–Missouri Synod (LCMS), placement pending.
Vincent Moore (CLS) to Christ Lutheran (Fort Saskatchewan, Alberta).
Dereck Pillay (CLTS) commended to the LCMS, Evangelical Lutheran Church of Saint Matthew (Scarborough, Ontario).
Andrew Preus (CLTS), placement deferred to attend Concordia Theological Seminary (Fort Wayne, Indiana).
Mark Schultz (CLS) to Zion Lutheran (Rimbey, Alberta).
Jeff Swords (CLTS), placement deferred.
The placements of students for year-term vicarages were also announced this weekend.
Vicars:
Aaron Astley (CLS) to Christ the King Lutheran (100 Mile House, B.C.).
Basil Christoforidis (CLTS) to Redeemer Lutheran (Waterloo, Ontario).
Scott Gamble (CLS) to Foot Hills Lutheran (Calgary, Alberta).
James Preus (CLTS) to Mount Olive Lutheran (Regina, Saskatchewan).
At an earlier event, Concordia University College of Alberta's one Director of Parish Services (DPS) candidate and two interns received their placements.
Alyx Quinlan (candidate) to New Beginnings Lutheran (Regina, Saskatchewan).
Kaitlin Schmitz (intern) to Trinity Evangelical Lutheran (Fisherville, Ontario).
Ashley Maskowitz (intern, special placement) to Mount Calvary Lutheran (Red Deer, Alberta).
Biographical information on graduating pastoral and DPS candidates will appear in the May/June print edition of The Canadian Lutheran.
———————