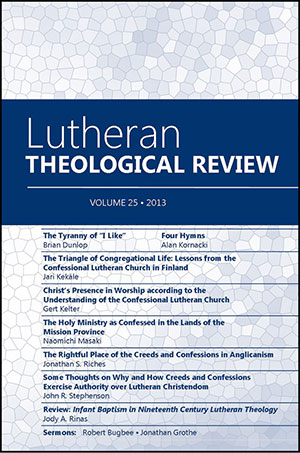 CANADA – Concordia Lutheran Theological Seminary (St. Catharines, Ontario) and Concordia Lutheran Seminary (Edmonton) have released a new volume of Lutheran Theological Review.
Lutheran Theological Review is an annual journal co-published by Lutheran Church–Canada's (LCC) two seminaries. It provides a forum for professors and pastors to publish their research, and for the seminaries to provide resources to stimulate the minds of LCC's pastorate and laity.
Free copies are sent to every pastor in LCC, and paid subscriptions are available. As a public service to the church, Lutheran Theological Review is also provided online in pdf format for free. To download Volume 25, visit http://www.brocku.ca/concordiaseminary/LTR/LTR_25.pdf.
———————