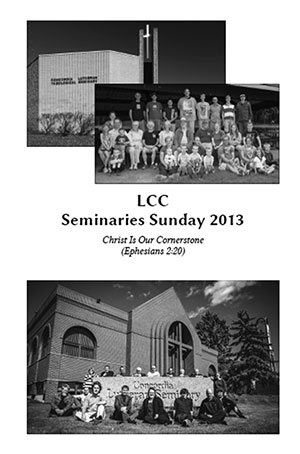 CANADA – Resources for Seminaries Sunday are now available for Lutheran Church–Canada (LCC) congregations to download.
LCC no longer designates a specific day of the year as "Seminaries Sunday," but encourages congregations to select a Sunday in which to remember the two seminaries with prayers and offerings. The church encourages the use of the Propers appointed for the day, but congregations may wish to also make use of the seminaries' joint theme verse for the year:
"So, then, you are no longer strangers and sojourners, but you are fellow-citizens with the saints and members of God's household, having been built up upon the foundation of the apostles and prophets, the cornerstone being Christ Jesus Himself" (Ephesians 2:19-20).
A bulletin cover and insert have been made available, as have been suggested hymns, prayers, and sermon-help notes based on the Ephesians 2:20 theme verse. Download the entire package here.
———————