EDMONTON – The next few weeks in Edmonton will see the Concordia University College of Alberta musical community host two special concerts.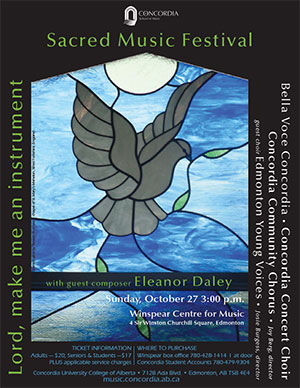 "Lord Make Me an Instrument" is the theme of Concordia's 13th annual Sacred Music Festival, featuring renowned Canadian choral composer Eleanor Daley, along with Concordia's Concert Choir, Community Chorus, and Bella Voce. The Edmonton Young Voice children's choir and Rev. Lorne Manweiler on the Davis organ will also contribute to this song festival at the Winspear Centre, October 27 at 3:00 p.m. Tickets are $20 for adults and $17 for seniors and students, and can be purchased at the Winspear Box Office at (780) 428-1414, or Concordia Student Accounts at (780) 479-9304.
The Concordia Symphony Orchestra opens the 2013-14 season with Romantic Verve, a concert featuring masterpieces from the romantic era, including Bruckner's Symphony No. 4 in E-flat Major and Maxwell'Davies' Orkney Wedding with Sunrise, for bagpipe solo and orchestra. Featured soloist piper John Stewart has competed and performed across North America and Europe, including the Royal Windsor Tatoo at Windsor Castle. The concert, under the baton of David Hoyt, takes place at Concordia's Tegler Student Centre on November 3 at 2:00 p.m. Tickets are $15 for adults and $12 for students and seniors. A family rate of $40 is also available at the door only. To purchase tickets, contact Tix on the Square at (780) 420-1757 or Concordia Students Account at (780) 479-9304.
———————