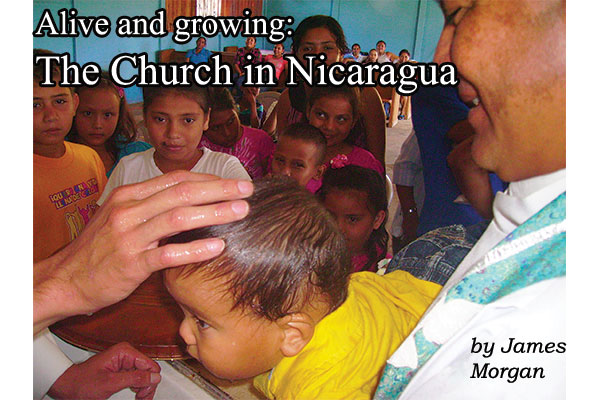 by James Morgan
The decline in Christian observance and church attendance in North America is something that preoccupies and concerns us all greatly. Shrinking congregations composed of fewer young people are unfortunately common in Canada and the United States. However, we can take great comfort and rejoice in the fact that the opposite trend is occurring in Nicaragua. Over 15 years, Lutheran Church–Canada (LCC) has formed a strong missional partnership and presence in the Central American country, with a significant focus on ministry to children and youth.
Early beginnings
United States statistics call Nicaragua the second-poorest nation in Latin America. Political and economic instability did not prepare the country well for the considerable destruction it suffered due to Hurricane Mitch in 1998. In some ways, this is when LCC's presence in Nicaragua began in earnest. Rev. Dr. Leonardo Neitzel, LCC's Executive for Missions and Social Ministry, notes that LCC's assistance in response to that tragedy was coordinated by Rev. Sándor Argüello (who passed on to glory in January 2012).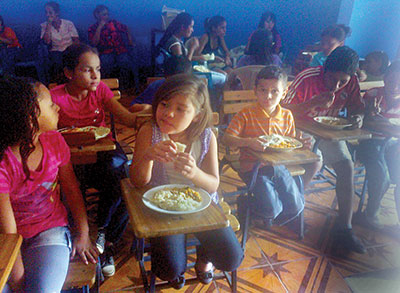 Rev. Argüello was a Nicaraguan who arrived in Canada in 1988 as a refugee from the civil war that was then taking place in his home country. He later became a pastor in LCC and served at Zion Lutheran Church in Rimbey, Alberta from 1995 until 1997 when he accepted a call from Synod to serve as a missionary in Nicaragua. LCC's response to the hurricane as coordinated by Rev. Argüello was met with deep appreciation by the Nicaraguan people and led to enthusiasm for more. "The people got excited about the ministry of Christ," says Rev. Dr. Neitzel.
This led to the establishment of home-based Bible studies and, eventually, Lutheran congregations. But church leadership began to realize something had to be done to minister to the needs of the increasing amount of children who were accompanying their parents when these events took place. To meet this need, Sunday Schools and Vacation Bible Schools were developed. The Vacation Bible Schools usually run from January to March during the school holiday season.  The school year in Nicaragua usually runs from March to November.
LCC congregations at work
Redeemer Lutheran Church in Waterloo, Ontario, is one congregation with deep involvement in Nicaragua. Congregation member Lisa Jackson coordinates what has become an annual trip for congregation members to Nicaragua to assist with Vacation Bible School and building construction projects. Redeemer supports the ministry of Rev. Maximo Urroz, a Nicaraguan pastor in LCC's partner synod in Nicaragua, the Iglesia Luterano Sínodo de Nicaragua (ILSN). Redeemer's pastor, Rev. Robert Krestick, opened communications with Rev. Urroz, and the first group of congregation members from Redeemer went to Nicaragua in 2010 to help with Vacation Bible School. They returned again in 2011 with 11 volunteers. In the community of Telica, 300 people attended the activities, held at a local community cultural centre. 100 people attended the Vacation Bible School in Gracias de Dios and 80 attended in San Pablo.
"Our days were fast and furious, full of action and love," Rev. Krestick said, soon after arriving back in Canada after the 2011 trip. The efforts of the Waterloo congregation assist four ILSN pastors with their ministry. Redeemer went again in 2013, and involvement had grown to include members of St. Paul's Lutheran Church in Elmira, which is near Waterloo. In 2014, participants from both congregations are planning to go to Nicaragua again, and members of other LCC congregations in southern Ontario are planning to accompany them. The new participants are from Pilgrim Lutheran Church in Hamilton, Grace Lutheran in Oshawa, and Christ our King in Mississauga.
Our days were fast and furious, full of action and love.
In the past, volunteers from Redeemer in Waterloo have been assisting with Vacation Bible Schools in three locations. Lisa Jackson says each location had anywhere from 110 to 150 children participating. "It's amazing and that's why we keep going back," she says, adding that when the volunteers arrive each morning, the children are already there, many singing happily. One of the volunteers from Redeemer Lutheran in Waterloo is a Spanish teacher who assists the other volunteers with communication and some translation. Other Nicaraguan translators are also present to help the Canadian volunteers. Lisa Jackson says the volunteers in the group coordinated by Redeemer are blessed to have the opportunity to go to Nicaragua, noting "you realize you have a purpose outside of doing what you do everyday."
There are many other LCC congregations involved in the Nicaragua ministry as well.  In November 2013, a team from Kingsville, Ontario, is going there to assist with building and the distribution of Christmas gifts to families. Rev. Warren Hamp of Faith Lutheran Church in Kitchener, Ontario, will also travel to Nicaragua in November to teach in ILSN's Continuing Education Program, deaconess training workshops, and to organize future building and Vacation Bible School projects. Faith Lutheran's involvement in Nicaragua began in 2006 when congregation members Jane Ford and Martin Bender suggested the idea. Jane Ford is also a member of LCC's Committee for Missions and Social Ministry Services and has led Vacation Bible Schools in a number of Nicaraguan communities. This year, she led a team in Chichigalpa and Rivas.
They plan to return in 2014 to assist in El Realejo. In total, 18 members of the Faith Lutheran congregation have been involved in Nicaraguan missions over the years. At the end of December 2013 and into January 2014, a group calling itself the London Zone Team from southern Ontario will go to Nicaragua to help with Vacation Bible School. It will be led by Rev. Dan Abraham (St. Peter's Lutheran in Simcoe, Ontario), and Revs. James Scholz and Oscar Castillo (Faith Lutheran Church in London, Ontario). A team led by Rev. John Trembulak from Zion Lutheran in Dashwood, Ontario, also plans to go at the same time to assist with building and Vacation Bible School programming. Jane Ford shares the very positive feedback she has received from various teams over her years of involvement. The most striking is what she calls "a blessing from God for all involved," noting that many Canadians who volunteer in Nicaragua say they feel their faith is rejuvenated and they are able to reconnect with aspects of Christian service they have not felt close to for a long time.
While assisting with Vacation Bible school is the main focus of some of the LCC groups that go to Nicaragua, others are focused on helping to build churches and other related facilities. Rev. Sangrog Choi of St. John Lutheran Church in Vegreville, Alberta, first went to Nicaragua to assist with a building project in 2006 when he was serving in Saskatchewan. His involvement in Nicaragua began when his former seminary classmate, the late Rev. Sándor Argüello, asked him if he would like to participate. Rev. Choi says that on average he now leads six people from St. John in Vegreville each year to assist in building projects. There are three main objectives of their work there: sharing God's word and love; building churches; and feeding poor children. "They are very humble," says Rev. Choi about the Nicaraguan people, adding "they love to hear the Gospel message; there's no problem filling the churches with people."
Partnering in ministry
While the ministries in Nicaragua are aided significantly by LCC pastors, lay volunteers, and financial contributions, the overall administration of them is carried out by ILSN pastors and deaconesses. It's a matter of Canadians working together with Nicaraguan partners. As one example, Jane Ford has worked with Nicaraguan Deaconess Carmen Martinez on Vacation Bible School material, in order to reflect Lutheran theology within a Nicaraguan cultural context. They use Spanish-language resources from Concordia Publishing House to aid in this effort. Ford explains that the focus on Vacation Bible School ministry is reflective of Christ's commission to us to teach children (Matthew 19:14—"Let the little children come to me…"). And LCC continues to partner with the ILSN in training pastors, work that began at Concordia Lutheran Theological Seminary (St. Catharines, Ontario) in 2000.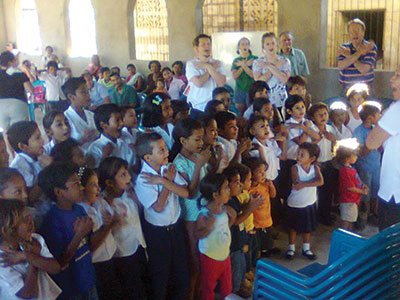 Today, there are 23 ILSN congregations with a total of 700 children regularly reached through the ILSN's ministry. Financial support comes from LCC, the Concordia Lutheran Mission Society, Canadian Lutheran World Relief, the Lutheran Women's Missionary League–Canada, and the Marvin Schwan Foundation (USA). Former LCC President Rev. Dr. Ralph Mayan is also an active volunteer with the Nicaraguan ministries. He notes that additional funding comes from confessional Lutheran organizations in the United States.
Children enrolled in the ILSN's "Christian Children's Education" program receive funding for the purchase of the uniforms and shoes that are required to attend public school in Nicaragua. They also receive tutoring in various school subjects with the expectation that they will put their best effort into their studies. In addition to academic subjects, children receive spiritual instruction from the Bible and Luther's Small Catechism. They also learn about and participate in cultural activities so they can be better educated on their identity as Nicaraguans. For five days each week, children arrive at their local ILSN church after spending half of the day in class at their public school. The afternoon after-school program, with its tutoring and spiritual education programming, is supervised by local deaconesses and pastors.
Dr. Mayan notes that several Nicaraguan congregations—with support from congregations in Canada and the United States—run a Saturday program for children which includes breakfast and Christian education activities. Additionally, reconditioned laptops are being provided for the children's programs, alongside basic instruction to deaconesses so that they in turn are able to teach basic computer skills to the children.
"We want to help eradicate illiteracy," Dr. Neitzel explains, speaking of the Children's Christian Education Program and its goal of not only sharing the Gospel with children, but also equipping them for a good economic future. Unemployment in Nicaragua is still around 60%—an unthinkable figure to Canadians who get concerned when our unemployment rate is a small fraction of that. Dr. Neitzel describes many of the children assisted through the program as "orphans with parents," which is to say, children whose parents have had to leave Nicaragua to find work. He says there are over one million Nicaraguans presently in Costa Rica who have gone there for that reason.
A new generation
"Give me a child when he is six years of age and I'll give you a man," says Dr. Neitzel, quoting a 16th century Christian author. This quotation is certainly true of the Children's Christian Education Program and other LCC-supported ILSN ministries in Nicaragua: two pastors and three deaconesses who were once students in the children's program will graduate from seminary in 2014. Dr. Neitzel excitedly calls this "the great miracle" of the Nicaraguan ministries, describing it as Proverbs 22:6 at work: "Train up a child in the way he should go; even when he is old he will not depart from it."
———————
James Morgan is a writer and former broadcaster living in Gatineau, Quebec where he is completing a Ph.D in History at the University of Ottawa. His home congregation is Trinity Lutheran near Gowanstown, Ontario, and he also worships at the Lutheran Tri-Parish of Western Quebec.