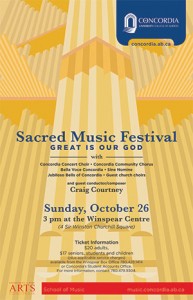 EDMONTON – Concordia University College of Alberta's (Edmonton) School of Music is preparing for two major musical events. The Sacred Music Festival "Great is our God" will take place at the Winspear Centre (4 Sir Winston Churchill Square) on October 26 at 3:00 p.m. A few days later, the Concordia Symphony Orchestra opens its 2014-15 season with "Kaleidoscope," November 2 at 2:00 p.m. in the Tegler Centre (Concordia University College of Alberta).
The Sacred Music Festival will feature the Concordia Concert Choir, Concordia Community Chorus, Bella Voce Concordia, Sine Nomine, Jubiloso Bells of Concordia, and guest church choirs. The event will highlight the music of distinguished composer Craig Courtney, who will be serving as guest conductor for the event. Tickets are $20 for adults and $17 for seniors, students, and children. They can be purchased from the Winspear Box Office or Concordia Student Accounts.
The Concordia Symphony Orchestra opener Kaleidoscope will be a diverse program, conducted by David Hoyt, featuring Poulenc's Concerto for Two Pianos (Michal Massey and Janet Scott Hoyt, pianos) and Brahm's Symphony No. 2 in D Major. Tickets are $15 for adults and $12 for students/seniors, and are available at Tix on the Square, Concordia Student Accounts, or at the door. A special family admission price of $40 is also available at the door only.
———————