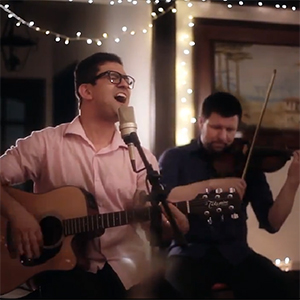 BRAZIL – Musicians in the Evangelical Lutheran Church of Brazil (IELB) have seen their contemporary adaptation of "Angels We Have Heard on High" go viral online.
The video was produced by Projeto Lìder de Louvor ("The Worship Leader Project")—a musical initiative supported by the Lutheran University of Brazil's pastoral service department—and features IELB pastors and musicians singing the well-loved carol, accompanied by a variety of instruments, including guitar, piano, violin, drums, and cajón.
"There is no greater reason to praise than Christmas," the group notes in the Facebook post announcing the new video. "Jesus is born! The angels sing! Enter into the spirit of Christmas with this new clip from Projeto Lìder de Louvor: Angels We Have Heard on High!"
As of December 18, more than 800 people have shared "Anjos Santos a Cantar" on Facebook, with nearly 19,000 people tuning in. Additionally, more than a thousand people have watched the video on YouTube.
For more information on
Projeto Lìder de Louvor
, visit their
Facebook page here
.
"Angels We Have Heard on High" is an English translation of the traditional French carol "Les Anges dans nos campagnes". The melody which English speakers are most used to ("Gloria") was composed by the American organist Edward Shippen Barnes. In their video, Projeto Lìder de Louvor sings the song in Portuguese.
———————