Browse:
Home
/
2 Corinthians
$postcount=0;?>
Dr. Mark Seifrid of Concordia Seminary-St. Louis
Posted in Issues Etc | Tagged 2 Corinthians, 2 Corinthians 3:17, Civil Religion, Donald Trump, freedom, liberty, Liberty University, Podcast
Dr. Carl Fickenscher of Concordia Theological Seminary-Ft. Wayne, IN Concordia Theological Seminary-Fort Wayne
Posted in Issues Etc | Tagged 2 Corinthians, 3-year lectionary, Collect, Epistle, Evening and Morning, Gospel, Gospel of Mark, Introit, Job, lectionary, liturgy, Old Testament, Pentecost, Podcast, Propers, Psalm 107, Scripture Readings, Three Year Lectionary, Trinity
"Amen" (The Lord's Prayer; 2 Corinthians 1:18-22) Alleluia! Christ is risen! (He is risen indeed! Alleluia!) Yes, "Alleluia" of course is the word of the day for Easter Day. We've been saving it up all Lent, and now today we finally get to let it loose. And what a day to do so! Our Lord Jesus Christ rose from the dead on this day, winning the victory for us over death and the grave. If that doesn't elicit an "Alleluia," I don't know what will. "Alleluia" is a Hebrew word originally, and it means "Praise ye the Lord." And praise is most fitting for us to render unto the Lord God for the great salvation he has assured us of . . .
Read All
Posted in Lutheran Blogosphere | Tagged 2 Corinthians, catechism, Easter, henrickson, Lord's Prayer, Pastor Charles Henrickson, sermon, Steadfast Sermons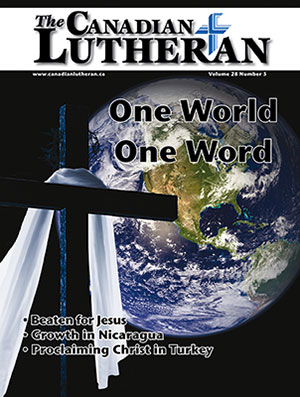 by Mathew Block "It is by grace you have been saved, through faith—and this not of yourselves, it is the gift of God—not by works, so that no one can boast" (Ephesians 2:8-9). This is the refrain, the key doctrine which echoes through the work of Martin Luther and the other Reformers of the 16th century: the idea that we are saved and declared righteous—that we are justified—through the grace of God alone, purchased by Christ at the cross and given to us in faith. It's not a matter of our good …
Posted in Catechesis, Lutheran Church -- Canada | Tagged 2 Corinthians, Ephesians, Faith, Faith Alone, Feature Stories, grace, Grace Alone, Headline, Justification, martin luther, Missions, Philip Melanchthon, Philipp Melanchthon, reformation, Romans, sola fide, St. Paul, Table Talk