$postcount=0;?>
If you were to visit 5 different LCMS congregations, there's a good chance you'd witness 5 very different approaches to worship. Hopefully you would come across at least one Divine Service, but you would almost certainly come across blended services, contemporary services, postmodern multi-media driven worship services, and even
breakthrough healing services
. Despite the endless variety of options in the Missouri Synod today, there is such a thing as genuinely Lutheran worship. Not everything that claims to be Lutheran is actually Lutheran. Well-intentioned Lutheran laypersons often assume that if an LCMS congregation is doing something, it must be orthodox. They assume our congregations are accountable for what they teach and do. This has not always been the case. Some . . .
Read All
Posted in Lutheran Blogosphere | Tagged Android, Contemporary Worship, Divine Service, iOS, LCMS, Praise Band, Worship
You can set up a passcode to protect the information on your cell phone. But the manufacturers can still unlock that information if given a court order, giving police and other government agencies access to people's private data. But Apple has announced that the new operating system for iPhones, iOS 8, will not give the
[Read More…]
. . .
Read All
Posted in Lutheran Blogosphere | Tagged Android, Government, law, Technology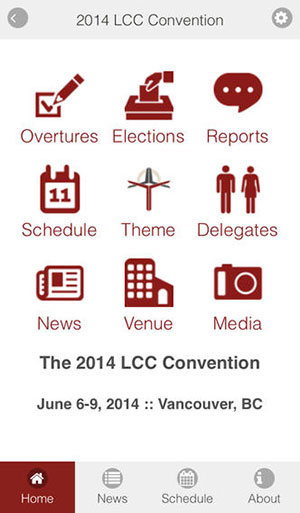 ONLINE – LCC is pleased to announce a new way to stay connected with our mission and ministry. LCC Mobile is an free app for iOS and Android that will help keep you up-to-date with what's happening in Lutheran Church–Canada. This first version of the app is primarily a "digital workbook" for the Synod Convention in Vancouver. It will allow delegates and other attendees to easily find schedule information, lists of nominees for election, resolutions and overtures, and more. It's not limited to delegates, however. Anyone can install the app, giving …
Posted in Lutheran Church -- Canada | Tagged Android, convention, Google Play, Headline, iOS, iPad, iPhone, iTunes, LCC Mobile, National News, rev. michael schutz