Browse:
Home
/
annunciation
$postcount=0;?>
Sermon for the Fourth Sunday in Advent (20 December A+D 2015) Pastor Dan Voth Our Savior's Lutheran Church, Minot, ND Trinity Lutheran Church, Tolley, ND The Holy Gospel for today is set about 9 months prior to the birth of Jesus. Gabriel is perhaps not gone very long. Mary, though betrothed to Joseph would still be living at home with Mom and Dad. The Holy Spirit has only recently overshadowed her and conceived the Christ-child in her womb. She is not yet showing that she is pregnant but she probably was scared. Her parents may have even been the cause of her long trip south to visit her old aunt while they tried to figure out what to do with the . . .
Read All
Posted in Lutheran Blogosphere | Tagged annunciation, Elizabeth, Eve, Faith, Mary, Steadfast Sermons, Visitation, word
25 March, New Testament Luke 1:26-38 tells us how the angel Gabriel announced to Mary of Nazareth that she had been chosen to be the mother of the Christ and her response. Mary, a virgin pledged to marry Joseph, briefly wondered how this could be, sin…
Posted in Lutheran Blogosphere | Tagged Aardvark Alley, annunciation, Bible, Bible history, biography, Christ, Christian, Christian feasts, Christianity, Christology, Church History, Church Year, commemoration, exegetical theology, Gabriel, hagiography, historical theology, jesus, Jesus Christ, liturgical calendar, Lutheran, Lutheran Confessions, Lutheranism, martin luther, Mother of God, New Testament, scripture, systematic theology, Theology, Theotokos, Virgin Mary
Nine months before Christmas the Church commemorates the annunciation to Mary. This is what the evangelist St. Luke records for us and our salvation: "In the sixth month of Elizabeth's pregnancy, God sent the angel Gabriel to Nazareth, a town …
Continue reading →. . .
Read All
Posted in Lutheran Blogosphere | Tagged annunciation, Gabriel, Incarnation, Jesus Christ, Nazareth
25 March, New Testament Luke 1:26-38 tells us how the angel Gabriel announced to Mary of Nazareth that she had been chosen to be the mother of the Christ and her response. Mary, a virgin pledged to marry Joseph, briefly wondered how this could be, sin…
Posted in Lutheran Blogosphere | Tagged Aardvark Alley, annunciation, Bible, Bible history, biography, Christ, Christian, Christian feasts, Christianity, Christology, Church History, Church Year, commemoration, exegetical theology, Gabriel, hagiography, historical theology, jesus, Jesus Christ, liturgical calendar, Lutheran, Lutheran Confessions, Lutheranism, martin luther, Mother of God, New Testament, scripture, systematic theology, Theology, Theotokos, Virgin Mary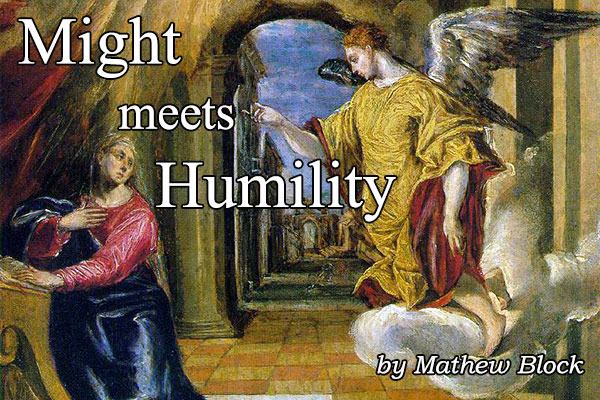 by Mathew Block I sometimes find myself wondering what it must have been like for Mary to be confronted by the angel Gabriel—to be going about daily life when the divine suddenly breaks in on the ordinary so clearly and undeniably. Here the supernatural trespasses on the natural in an unexpected, indeed, unexpectable way: an angel appears with a message from God Himself. This isn't your typical Sunday School Christmas Program angel, either—a cute little kid in an oversized gown, white wings, and a droopy halo. We tend to imagine angels in …
Posted in Lutheran Church -- Canada, Proclaimation | Tagged advent, angel, Angels, annunciation, archangel, Christmas, Feature Stories, Gabriel, Headline, humility, Incarnation, jesus, Magnificat, Mary, Mathew Block, might, Mother of God, Theotokos
Dr. Kent Burreson of Concordia Seminary-St. Louis, MO
Posted in Issues Etc, Lutheran Media | Tagged annunciation, Podcast
Today is Holy Monday and Holy Week begins to move on.  But another great thing is celebrated today in the Church, the Annunciation of our Lord.  This is the celebration of the announcement by the angel Gabriel to the Virgin Mary that she would concei…
Posted in Lutheran Blogosphere | Tagged annunciation, Life, Pastor Joshua Scheer
25 March, New Testament Luke 1:26-38 tells us how the angel Gabriel announced to Mary of Nazareth that she had been chosen to be the mother of the Christ and her response. Mary, a virgin pledged to marry Joseph, briefly wondered how this could be, sin…
Posted in Lutheran Blogosphere | Tagged Aardvark Alley, annunciation, Bible, Bible history, biography, Christ, Christian, Christian feasts, Christianity, Church History, Church Year, commemoration, exegetical theology, Gabriel, hagiography, historical theology, jesus, Jesus Christ, liturgical calendar, Lutheran, Lutheran Confessions, Lutheranism, martin luther, Mother of God, New Testament, scripture, Theology, Theotokos, Virgin Mary
25 March, New Testament Luke 1:26-38 tells us how the angel Gabriel announced to Mary of Nazareth that she had been chosen to be the mother of the Christ and her response. Mary, a virgin pledged to marry Joseph, briefly wondered how this could be, sin…
Posted in Lutheran Blogosphere | Tagged Aardvark Alley, annunciation, Bible, Bible history, biography, Christ, Christian, Christian feasts, Christianity, Church History, Church Year, commemoration, exegetical theology, Gabriel, hagiography, historical theology, jesus, Jesus Christ, liturgical calendar, Lutheran, Lutheran Confessions, Lutheranism, martin luther, Mother of God, New Testament, scripture, Theology, Theotokos, Virgin Mary