$postcount=0;?>
The denial of state funds could affect the scope of the Noah's Ark project.Answers in Genesis (AiG) says it will file a federal discrimination lawsuit against the state of Kentucky for denying the organization its application for tax incentives to help it build the Noah's Ark theme park. Kentucky tourism officials in December had ruled that the biblical theme park would advance religion and would discriminate in its hiring practices on the basis of religion, and thus the state could not financially support the project.AiG responded by saying the decision itself amounted to discrimination and that it "violates federal and state law." "Our organization spent many months attempting to reason with state officials so that this lawsuit would . . .
Read All
Posted in Lutheran Blogosphere | Tagged Answers in Genesis, Ark, creation museum, Ham, Johnson
But Noah found grace in the eyes of the LORD. (Gen 6:8 KJV) But we believe that through the grace of the Lord Jesus Christ we shall be saved. (Act 15:11 KJV) The story of Noah is remarkable. Today's verse …
Continue reading →
. . .
Read All
Posted in Lutheran Blogosphere | Tagged Ark, election, forgiveness, grace, Noah, saved, Worthiness
29 November, Old Testament The world had become extremely corrupt, so God instructed Noah, the son of Lamech (Genesis 5:30) to build an ark to provide security for his family and selected living creatures from the waters of a devastating flood that Go…
Posted in Lutheran Blogosphere | Tagged Aardvark Alley, Ark, baptism, Bible, Bible history, biography, Christian, Christian feasts, Christianity, Christology, Church History, Church Year, commemorations, confessional Lutheran, exegetical theology, Faith, faithfulness, flood, Genesis, God's Word, hagiography, historical theology, Holy Baptism, lectionary, liturgical calendar, Lutheran, Lutheranism, Noah, Old Testament, Prophet, Resurrection, Righteousness, Saint, saints' days, scripture, The Flood, Theology, Young Earth
Students researching the dimensions of Noah's Ark are surprised at their own findings. Masters-level students at England's Leicester University Dept. of Physics and Astronomy decided to examine the dimension's of Noah's Ark as provided in Genesis, chapter 6. They came to a conclusion that might surprise many skeptics. "University of Leicester students show Noah's ark would have been strong enough to carry pairs of each animal species," the university's website states.The researchers say the ark could not only have easily held up under the weight of the 70,000 animals (35,000 species) some think might have been on the ark but, as far as weight is concerned, perhaps as many as two million or more sheep-sized animals theoretically could have . . .
Read All
Posted in Lutheran Blogosphere | Tagged Ark, Noah
Science writer lists several objections to the biblical account of Noah and the flood.The new Noah film starring Russell Crowe, which just opened in theaters, is only loosely based on the biblical account of Noah and the Flood (Genesis 6-8) and should not be considered a faithful depiction. (See
Ken Ham's review
). However, the movie has motivated at least one science writer, Live Science's Benjamin Radford, to review and attack the Genesis description of the event. Not surprising, his piece is just loaded with inaccuracies and mistakes in judgment. Quoting a 1984 book by Henry Morris, Radford writes, "The flaws in Morris's calculations become evident when you consider that, according to many creationists, Noah's Ark included hundreds . . .
Read All
Posted in Lutheran Blogosphere | Tagged Ark, flood, Noah
He wants to show a wooden boat can survive catastrophes. Inspired by the devastating tsunami that hit Japan in 2011, a California designer began working on a boat that could survive a similar catastrophe if one would ever threaten his state. Chris Robinson considered such survival methods as personal jetpacks and balloon houses before turning to a serious boat-building project he calls
Tsunamiball
.Using Adobe Illustrator to help him design his vessel, Robinson also consulted engineers for help in making his calculations. The idea of a tsunami-proof submarine-shaped wooden boat apparently sounds absurd to some people, but the inventor insists he first considered what materials he would use. The outer hull is to be made of marine-grade plywood covered . . .
Read All
Posted in Lutheran Blogosphere | Tagged Ark, Boat, California, japan, singing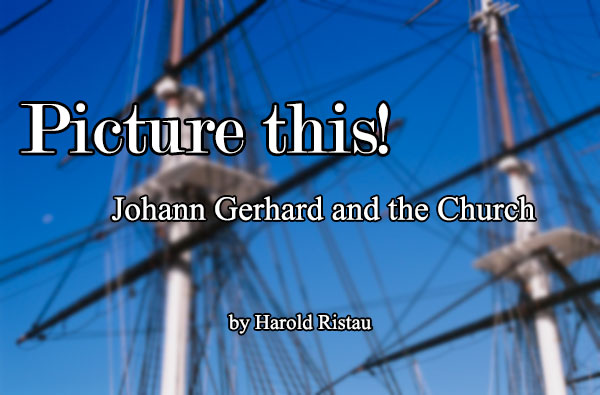 by Harold Ristau It is no secret that, as church membership and attendance decrease, many Christians are concerned about the future of the Church in North America. When we look at the Church as a human organization, its short term future may in fact l…
Posted in Featured Articles, Lutheran Church -- Canada | Tagged allegories, Ark, bride, Christ, Church, devotions, Feature Stories, garden, Headline, Johann Gerhard, mother, padre harold ristau, pictures, ship, Vine