Browse:
Home
/
Boston Marathon
$postcount=0;?>
Listen to various audio clips from this year's conference.
Posted in KFUO AM (LCMS - St. Louis), Lutheran Media | Tagged Boston Marathon, cerendola, Newtown CT, palattao, philippines, ranara, time of tragedy, typhoon yolanda, Uncategorized, weedon, yeadon
There is perhaps no greater threat to both the Gospel and to the family today than the sexual identity crisis in our culture. Liberal feminism and LGBT advocates are fighting the same battle. Both deny the essential difference between the sexes. "Equal and interchangeable" might well be their motto. They have the "equal" part correct: equal in terms of dignity and worth. Neither male nor female are any less valuable in God's eyes, whether your pet sins are of the homo or hetero sexual variety. Christ shed His Holy, Precious Blood equally for all. He is the Lamb of God who became an accursed sinner for us (Galatians 3:13), Whom God regarded as One who committed the most vile sexual . . .
Read All
Posted in Lutheran Blogosphere | Tagged Absolution, Boston Marathon, Genesis, idolatry, LGBT, Order of Creation, sexuality, Sin, women's ordination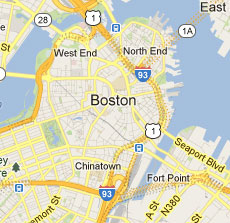 Image: Google maps. BOSTON – Lutheran Church-Canada's (LCC) President Robert Bugbee has pledged prayers for those affected by the April 15 bombings in Boston. "Dear friends in Canada," he writes, "I'm in Sydney, Australia on my way …
Posted in Lutheran Church -- Canada | Tagged bombings, Boston, Boston Marathon, Headline, International News, LCC, LCMS, lutheran church canada, lutheran church missouri synod
It looks like a terrorist attack at the Boston Marathon, killing two and injuring 100.  A Saudi national has been arrested.  [I posted an update this morning, but it didn't go through, for some reason!  Yes, the last I saw, the casualty count is now…
Posted in Lutheran Blogosphere | Tagged Boston Marathon, terrorism