Browse:
Home
/
chaplaincy
$postcount=0;?>
Yankee Stadium Trade Center Prayer Service September 23, 2001 One of the most frequently abused gifts of God among Christians today is prayer. For some reason we've gotten this notion that prayer is always a good thing. It is not. Prayer can easily become an attempt to approach God on our own terms, to manipulate Him, or put Him to the test by expecting Him to give us some "sign" apart from what He's already revealed in His Word. Such prayer is extremely dangerous and not even remotely Christian. It is important to recognize that not all prayer is God-pleasing. The only thing that's worse than repeatedly walking into the traps of Satan is mistaking them for the blessings of . . .
Read All
Posted in Lutheran Blogosphere | Tagged chaplaincy, Father, Holy Spirit, idolatry, Matins, Newtown, Prayer, scripture, Small Catechism, Solomon, Son, Steadfast Throwdown, Syncretism, Trinity, Vespers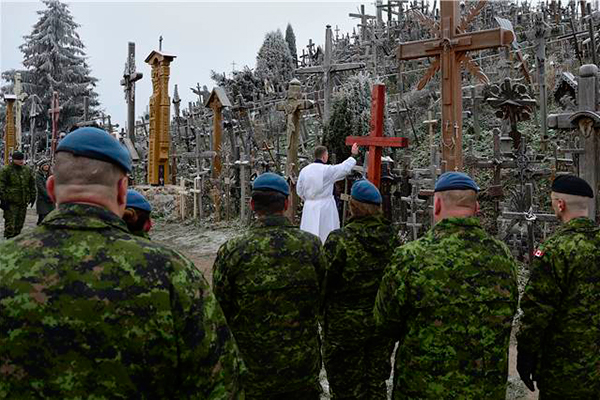 LITHUANIA – On November 30, the first Sunday of Advent, the Canadian Air Task Force in Lithuania placed a cross on the Hill of Crosses, a national historic and pilgrimage site. Rev. Gerson Flor, a member of Lutheran Church–Canada and chaplain with the Canadian forces serving in Lithuania, was present for the event, blessing the cross and speaking on its significance. "The Hill of Crosses is both a pilgrimage site and a historical national landmark," explained an Air Force release. "The practice of leaving crosses on the hill is believed to date …
Posted in Lutheran Church -- Canada | Tagged air force, Armed Forces, chaplain, chaplaincy, Headline, Hill of Crosses, International News, LCC, Lithuanaia, lutheran church canada, National News, NATO, Rev. Gerson Flor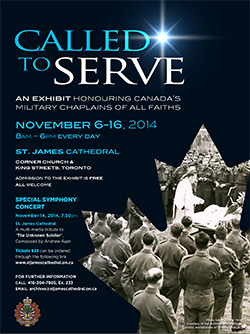 TORONTO – To mark the 100th anniversary of World War I, the Anglican Cathedral of St. James (Toronto) is hosting an exhibit on the history of Canada's military chaplaincy, and Lutheran Church–Canada is among the sponsors. Entitled "Called to Serve: An Exhibit Honouring Canada's Military Chaplains of All Faiths," the display opened yesterday, November 6. It is free and open to the public every day from 8:00 a.m. to 6:00 p.m., ending November 16. "The first ever of its kind in Canada, this exhibit will chronicle and pay tribute to the brave …
Posted in Lutheran Church -- Canada | Tagged Armed Forces, Called to Serve, Canada, Canadian, Canadian Armed Forces, chaplaincy, East District News, Headline, Lutheran, lutheran church canada, military chaplains, National News, November 11, Remembrance Day, Rev. Dr. Harold Ristau, Royal Canadian Chaplain Service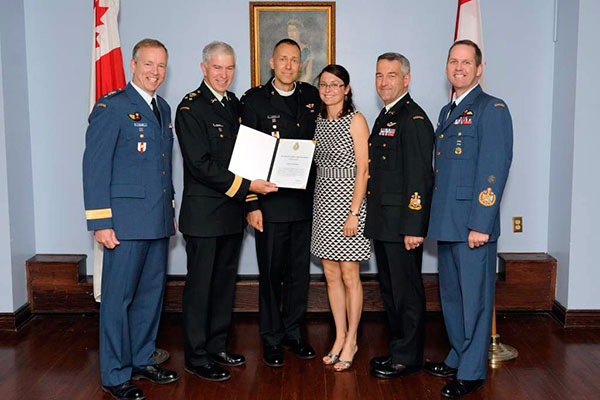 OTTAWA – On May 31, 2014 Rev. Dr. Chaplain Harold Ristau—a member of Lutheran Church–Canada—received the Chief of Defense Staff (CDS) commendation, which is one of the highest recognitions in the Canadian Armed Forces (CAF). Dr. Ristau was honoured along with 11 other military personnel recognized for various incidents of outstanding service. The citation was triggered by the important impact of Dr. Ristau's book At Peace with War (Wipf & Stock) on the training system. As part of a Canadian Armed Forces Appreciation weekend, the commendation recipients and their spouses participated …
Posted in Lutheran Church -- Canada | Tagged Armed Forces, at peace with war, Canadian military, chaplain, chaplaincy, Feature Stories, Headline, LCC, lutheran church canada, National News, Rev. Dr. Harold Ristau
Hear what's going on today with Rev. Craig Donofrio.
Posted in KFUO AM (LCMS - St. Louis), Lutheran Media | Tagged auttsin hill, chaplaincy, eric erikinen, May 14, Military, Reformation Rush Hour, service, small business
LCMS grant dollars provide an opportunity for seminary students to train for law enforcement chaplaincy.(Read more…)
Posted in Lutheran Church -- Missouri Synod, Lutherans Engage, Lutherans in Society, News | Tagged chaplaincy, Grant Stories, Lutherans Engage, National Mercy Grant