$postcount=0;?>
God always provides a way out of temptation. His name is Jesus, and his way out is forgiveness. The Daily Fix is a running commentary on life, death, the world, the Church, and what the Bible says God thinks about it all. Questions about the Lutheran Ninja Clan and WEtv's goals? Watch this video: https://youtu.be/wzVJ0CPh9JI […]
↓ Read the rest of this entry…
The post
The Daily Fix: The Narrow Way Out
appeared first on
Worldview Everlasting
.
Posted in Catechesis, Lutheran Media, Worldview Everlasting - Videos | Tagged 1 Corinthians 10, Context, Evangelical Cliches, Food Sacrificed to Idols, idols, James, once saved always saved, OSAS, Perseverance of the Saints, Sin, temptation, The Daily Fix, vlog
Contextualization Level: Expert In a generic sense, contextualization refers to considering the context, that is, the situation, environment, time, and culture in which an event takes place. Within the church, contextualization usually refers to the process of speaking God's Word to a group of people in a way which considers and adapts to their context. A great example of comes from St. Jerome and Dr. Luther. Each saw that the Bible of his day was in a language that only few understood, so he produced a translation in the language of the people. In St. Jerome's context, then, Latin was more appropriate than Greek as the language of Scripture being read to the people. Centuries later, Luther produced a . . .
Read All
Posted in Lutheran Blogosphere | Tagged Context, Uncategorized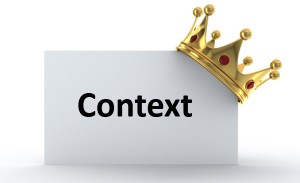 It's no secret that context is a major buzzword these days. From marketers who will sell you demographic information about your town (information which, it should be noted, could just as easily be gotten by going to the grocery store) to pastoral ministry gurus who couch all their advice in context language, it's practically inescapable. So what does the word mean? How is it wrongly used? Is there a right way to use a knowledge of one's context? Context, in terms of the church, usually has to do with one's surrounding people, culture, and geography. In Cheyenne, Wyoming, for example, one might describe the context with terms and phrases like "high plains desert", "rugged individualism", "military town", "state capital", "mostly . . .
Read All
Posted in Lutheran Blogosphere | Tagged Context, Uncategorized
Making the most of every opportunity, because the days are evil. (Eph 5:16 NIV) The holy Apostle views the days as evil and therefore they offer little opportunity to do good. The circumstances in our daily life make a holy …
Continue reading →. . .
Read All