$postcount=0;?>
International representatives from Lutheran churches around the globe gather and worship at the historic St. Mary's church in Wittenberg, May 6. Church leaders from 41 countries representing 23 million Lutherans are in Wittenberg for the Conference on Confessional Leadership in the 21st Century, May 6-7. (LCMS Communications/Erik M. Lunsford) NOTE: Just over five years ago, in June of 2010, a group of 25 leaders representing a dozen Lutheran churches from around the globe met on the campus of Concordia Theological Seminary in Fort Wayne, Indiana, for what was described as a "Confessional Leadership Conference" sponsored by the Commission on Theology and Church Relations (CTCR) of the LCMS. This genesis of this conference was a resolution (3-03) adopted by the 2007 . . .
Read All
Posted in Lutheran Blogosphere | Tagged Al's Posts, CTCR, ILC, International Lutheran Council, LCMS, Press Release, SELK, Witness Mercy Life Together (Officers and executive staff of the LCMS), Wittenberg
(1) Dr. Joel Lehenbauer talks about the second International Conference on Confessional Leadership, (2) Rev. Todd Kollbaum talks on Rural & Small Town Mission, and (3) Rev. Christopher Hall looks at 1 Corinthians 11:17-34 and gives today's sermonette.
Posted in KFUO AM (LCMS - St. Louis), Lutheran Media | Tagged 1 Corinthians 11, conference, confesisonal leadership, CTCR, hall, His Time, kollbaum, lehenbauer, lord's supper, rural, small town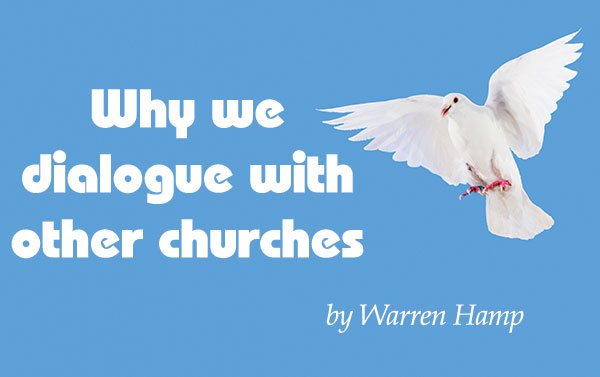 by Warren Hamp One of the directions which the Commission on Theology and Church Relations has taken in the last few years has been to help coordinate dialogue with other Christian confessions. This comes under the 'church relations' side of the commission's work. Currently, Lutheran Church–Canada (LCC) is a partner in North American dialogues alongside The Lutheran Church—Missouri Synod with the North American Lutheran Church (NALC) and the Anglican Church of North America (ACNA).NALC is comprised primarily of Lutheran congregations who have separated from the Evangelical Lutheran Church in America and the …
Posted in Lutheran Church -- Canada | Tagged commission on theology and church relations, CTCR, dialog, dialogue, Feature Stories, Headline, National News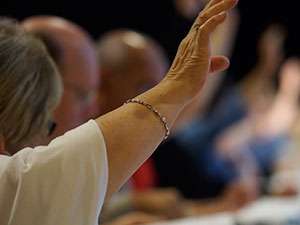 VANCOUVER – Yesterday, The Canadian Lutheran published the results of the presidential and vice-presidential elections at Lutheran Church–Canada's National Convention. What follows are the rest of the election results from Synod's Convention. Board of Directors: Cindy Sholdice (Central) Arnold Drung (East) Alan Schmitt (East) Rev. Kurt Reinhardt Commission for Theology and Church Relations: Rev. Joel Kuhl (East) Rev. James Heinbuch (East) Cliff Pyle (Central) Commission for Adjudication Rev. Harold Borchardt (Central) Rev. Richard Frey (East) Deacon Monica Schultz (ABC) Board of Regents of Concordia Lutheran Seminary Rev. Daryl Solie (Central) Rev. Scott Lyons (ABC) Ian Lande (ABC) Board of Regents of Concordia Lutheran Theological Seminary Rev. Cameron Schnarr (Central) Rev. …
Posted in Lutheran Church -- Canada | Tagged 2014, Alan Schmitt, Arnold Drung, Board of Directors, Board of Regents, bod, Bruno Korst, Cindy Sholdice, Cliff Pyle, CLS, CLTS, Committee for Adjudication, Committee for Theology and Church Relations, Concordia Lutheran Seminary, Concordia Lutheran Theological Seminary, convention, CTCR, Deacon Monica Schultz, Elections, Headline, Ian Lande, LCC, lutheran church canada, National News, Rev. Cameron Schnarr, Rev. Dan Abraham, Rev. Daryl Solie, Rev. Harold Borchardt, Rev. James Heinbuch, Rev. Joel Kuhl, Rev. Kurt Reinhardt, Rev. Richard Frey, Rev. Scott Lyons
The LCMS Commission on Theology and Church Relations adopts a report titled "The Natural Knowledge of God in Christian Confession and Christian Witness." (
Read more…
)
Posted in Church Bodies - Official Outlets, LCMS Blog, Lutheran Church -- Missouri Synod | Tagged CTCR, News, Reporter, theology and church relations
The March 21 meeting in St. Louis brings together representatives of the LCMS, Lutheran Church—Canada and the U.S. Conference of Catholic Bishops.(Read more…)
Posted in Church Bodies - Official Outlets, LCMS Blog, Lutheran Church -- Missouri Synod | Tagged CTCR, Free to be faithful, ILC, Life Together, News, Reporter, RSO's, social ministry