Browse:
Home
/
ecumenical dialogue
$postcount=0;?>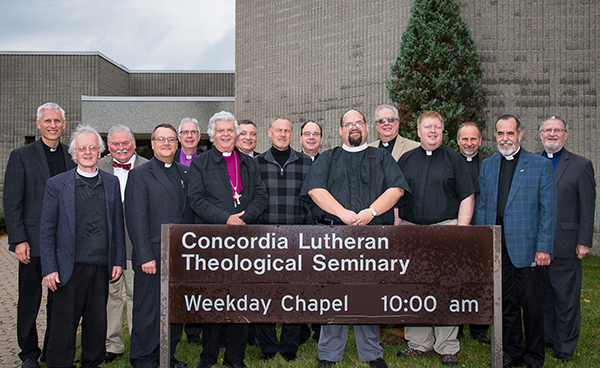 ST. CATHARINES, Ontario – Dialogue participants from the Anglican Church in North America (ACNA), The Lutheran Church—Missouri Synod (LCMS), and Lutheran Church–Canada (LCC) met for their latest semi-annual round of discussions at Concordia Lutheran Theological Seminary (CLTS) in Ontario on Friday, October 17. It was the first time a regular meeting of the dialogue had taken place in Canada. The latest discussions were preceded by a one-day symposium at CLTS entitled Militant Secularism: Its Cost, Cause and Cure. The symposium featured presentations by both Lutheran and Anglican theologians, including Rev. Dr. John Stephenson …
Posted in Church Bodies and Organizations, Lutheran Church -- Canada | Tagged 2014, ACNA, Anglican Church in North America, Anglican Network in Canada, Anglicans, ANiC, Bishop Donald Harvey, CLTS, Concordia Lutheran Theological Seminary, confessional Lutherans, ecumenical dialogue, Ecumenism, Education News, Feature Stories, Headline, International News, LCC, LCMS, lutheran church canada, militant secularism, National News, Ontario, Rev. Dr. Joel Lehebauer, rev. dr. john stephenson, Rev. Dr. Jonathan Riches, St. Chatarines, The Lutheran Church-Missouri Synod
Liberal Protestants, such as the members of the Lutheran World Federation, are strongly committed to ecumenism, and they have been pursuing talks with the Roman Catholics and the Orthodox. But since the Protestant bodies have been ordaining women, accepting homosexuality, and advocating abortion, those talks have been going nowhere. Surprise, surprise. So now the ecumenical
[Read More…]
. . .
Read All
Posted in Lutheran Blogosphere | Tagged Church, ecumenical dialogue, Liberal Protestantism, Theology