Browse:
Home
/
Faith Alone
$postcount=0;?>
Pr. Matthew Wurm of Mount Calvary Lutheran-Brookings, SD Download the June/July issue of The Lutheran Witness Free
Posted in Issues Etc | Tagged Faith Alone, Grace Alone, Podcast, reformation, Scripture Alone, Sola Fidei, sola gratia, sola scriptura
Good Friday—Tenebrae + St. Peter Lutheran Church, Joliet, IL + St. John 19:34-37, Lamentations 1:8 + April 18, 2014 "There is no rest except in the death of Jesus" INI Handwritten This sermon begins with the grief of Jerusalem, with her groans and her wailing, because it is really your groaning, your lamentation. "Do not weep for me, daughters of Jerusalem, but weep for yourselves and for your children, because the days are coming when you will say 'Blessed are the barren, the wombs that never bore and the breasts that never gave suck. Then they will begin to say to the hills—fall on us!'" Thus says the Lord Jesus your husband as he bears . . .
Read All
Posted in Lutheran Blogosphere | Tagged Faith Alone, Good Friday, Lent
Reformation Week — "FAITH ALONE" — with guest Rev. Steven Theiss of St. Paul Lutheran Church in Columbia, Illinois.
Posted in KFUO AM (LCMS - St. Louis), Lutheran Media | Tagged Faith Alone, reformation, Steven Theiss, The Bible Study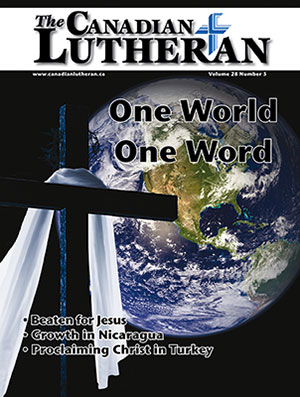 by Mathew Block "It is by grace you have been saved, through faith—and this not of yourselves, it is the gift of God—not by works, so that no one can boast" (Ephesians 2:8-9). This is the refrain, the key doctrine which echoes through the work of Martin Luther and the other Reformers of the 16th century: the idea that we are saved and declared righteous—that we are justified—through the grace of God alone, purchased by Christ at the cross and given to us in faith. It's not a matter of our good …
Posted in Catechesis, Lutheran Church -- Canada | Tagged 2 Corinthians, Ephesians, Faith, Faith Alone, Feature Stories, grace, Grace Alone, Headline, Justification, martin luther, Missions, Philip Melanchthon, Philipp Melanchthon, reformation, Romans, sola fide, St. Paul, Table Talk
For if the inheritance depends on the law, then it no longer depends on the promise; but God in his grace gave it to Abraham through a promise. (Gal 3:18 NIV) No person earns grace by way of the law. …
Continue reading →. . .
Read All
Posted in Devotions, Lutheran Blogosphere | Tagged Abraham, Faith Alone, Good works, grace, Holy Spirit, Inheritance, Justification, law, Promise, sanctification
Pr. Will Weedon, Director of Worship for the Lutheran Church-Missouri Synod "The Lutheran 'Solas' in the Fathers of the Church" by Pastor Will Weedon
Posted in Issues Etc, Lutheran Media | Tagged Christ Alone, Church Fathers, Early Church, Faith Alone, Grace Alone, Podcast, reformation, Scripture Alone, Sola Christus, sola fide, sola gratia, sola scriptura, Solas