$postcount=0;?>
Dr. Albert Collver, Dir. of Regional Operations for International Missions Church of the Lutheran Church-Missouri Synod
Posted in Issues Etc | Tagged Church of Finland, Confessional Lutheranism, Finland, Lutheranism, Podcast
The Rev. Juhana Pohjola, Dean of the recently formed Evangelical Lutheran Mission Diocese of Finland, has been defrocked by the nominally Lutheran Church of Finland. His offence was participating as a founder and leader of the Mission Diocese, which the CoF considers to be "violating his ordination vows." Dean Pohjola earned a STM at Concordia Theological Seminary, Fort Wayne, in 1999 and will defend his doctoral dissertation at the University of Helsinki on August 15. The following report is written by The Rev. Samuli Siikavirta, a doctoral candidate in New Testament at Cambridge University who was ordained in the Mission Diocese earlier this summer. Dean of the Evangelical Lutheran Mission Diocese of Finland, Rev Juhana Pohjola, Defrocked by the National . . .
Read All
Posted in Lutheran Blogosphere | Tagged Al's Posts, Finland, persecution, Witness Mercy Life Together (Officers and executive staff of the LCMS)
The European region of the International Lutheran Council is meeting May 21-25 in Bleckmar, Germany. Rick Steenbock, LCMS Missionary and Communication and Projects Manager for Eurasia, is on site to update us each day.(More)
Posted in Church Bodies - Official Outlets, Event, Lutheran Church -- Missouri Synod, WMLT in Eurasia | Tagged Bishop Voigt, Czech Republic, ELCE, Features, Finland, Germany, ILC, LCMS, LWF, News, Rev. John Ehlers, Rick Steenbock, SELK, UK, United Kingdom
Dear friends and family far and wide + Thank you very much for your friendship and support in the past year 2013. We Webers have reason to be very grateful and happy. Please thank and praise our God with us for …
Continue reading →. . .
Read All
Posted in Lutheran Blogosphere | Tagged 2013, Birthday, Bishop, family, Finland, France, Italy, parents, weber
Tomorrow, October 31, 2013, is the 496th anniversary of the day when Martin Luther nailed his 95 Theses to the door of the Town Church in Wittenberg. We celebrate this because God used his servant, Martin Luther, to place the Gospel of Jesus Christ bac…
Posted in Church Bodies - Official Outlets, Devotions, Lutheran Church -- Missouri Synod, WMLT in Eurasia | Tagged A Mighty Fortress is our God, Czech Republic, Eurasia Blog Wednesday Devotion, Eurasia region, Features, Finland, Germany, kazakhstan, Languages, Lithuania, martin luther, News, Poland, Russia, Satan, Slovakia, Uncategorized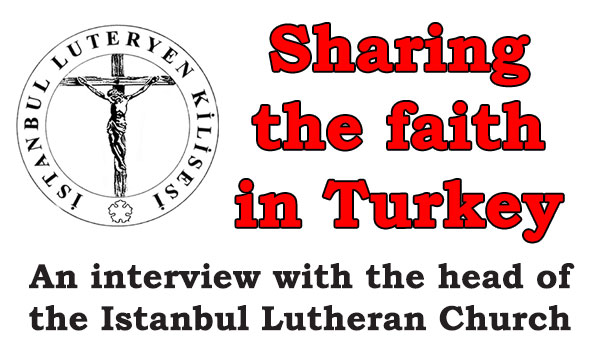 Rev. Ville Typpö is head of the Istanbul Lutheran Church and pastor of Istanbul Lutheran Congregation in Turkey. He joined Mathew Block, editor of The Canadian Lutheran (CL), for an interview by Skype. CL: Let's start at the beginning: what is the history of the Istanbul Lutheran Church? It goes back to the year 1709 when the first Lutheran pastor was sent to Constantinople from Sweden. Some decades after that, in 1741, a project was started to collect money for building a Lutheran church in the city. As a result of this …
Posted in Featured Articles, Lutheran Church -- Canada | Tagged Christianity, Feature Stories, Finland, Finnish, Headline, International News, Interviews, Islam, Istanbul Lutheran Church, Istanbul Lutheran Congregation, Izmir, Lutheranism, Mission News, Mission Province in Finland, Missions, Muslim, Polycarp, Rev. Ville Typpö, smyrna, Turkey, Ville Typpo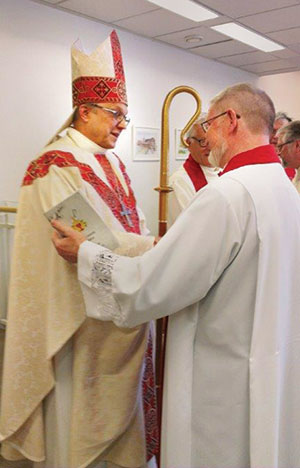 FINLAND – On May 4, Rev. Risto Soramies was installed in Helsinki as the Bishop of the newly organized Evangelical Lutheran Mission Diocese of Finland. The installation took place in the Sacred Heart Chapel of the Lutheran Evangelical Association of Finland. Bishop Soramies served many years as a missionary to Turkish immigrants to Germany. In the early 2000s, he was founding pastor of Istanbul Lutheran Church in Turkey. He speaks German and Turkish fluently, in addition to Finnish. Bishop Soramies succeeds Bishop Matti Väisinen who is retiring. Bishop Väisinen—along with the Swedish …
Posted in Lutheran Church -- Canada | Tagged Bishop Risto Soramies, Bishop Roland Gustafsson, Bishop Thor Henrik With, confessional Lutheran, Evangelical Lutheran Foundation of Norway, Evangelical Lutheran Mission Diocese of Finland, Finland, Headline, International News, Matti Väisinen, Mission Province, Rev. Dr. Wilhelm Torgerson, Sweden