$postcount=0;?>
The text for this lesson is Luke 1:26–38 Key Point Because of Christ, God favored Mary and chose her to be the mother of the Savior. Because of Christ, God favors us and chooses us to be His children. Law: Like Mary, I deserve nothing from God because of my sinfulness. Gospel: God gives me […]
Posted in Catechesis, CPH Seeds of Faith Podcast, Lutheran Media | Tagged angel, announcement, birth, Gabriel, jesus, Mary, Podcasts
25 March, New Testament Luke 1:26-38 tells us how the angel Gabriel announced to Mary of Nazareth that she had been chosen to be the mother of the Christ and her response. Mary, a virgin pledged to marry Joseph, briefly wondered how this could be, sin…
Posted in Lutheran Blogosphere | Tagged Aardvark Alley, annunciation, Bible, Bible history, biography, Christ, Christian, Christian feasts, Christianity, Christology, Church History, Church Year, commemoration, exegetical theology, Gabriel, hagiography, historical theology, jesus, Jesus Christ, liturgical calendar, Lutheran, Lutheran Confessions, Lutheranism, martin luther, Mother of God, New Testament, scripture, systematic theology, Theology, Theotokos, Virgin Mary

Posted in Catechesis, Lutheran Media, Worldview Everlasting - Videos | Tagged Angel Gabriel, Gabriel, geneaology, Greek Tuesday, Grek2sday, Luke 1, Luke 1:26-28, Mary, The Magnificat, virgin, Virgin Birth, Virgin Mary, vlog
Nine months before Christmas the Church commemorates the annunciation to Mary. This is what the evangelist St. Luke records for us and our salvation: "In the sixth month of Elizabeth's pregnancy, God sent the angel Gabriel to Nazareth, a town …
Continue reading →. . .
Read All
Posted in Lutheran Blogosphere | Tagged annunciation, Gabriel, Incarnation, Jesus Christ, Nazareth
25 March, New Testament Luke 1:26-38 tells us how the angel Gabriel announced to Mary of Nazareth that she had been chosen to be the mother of the Christ and her response. Mary, a virgin pledged to marry Joseph, briefly wondered how this could be, sin…
Posted in Lutheran Blogosphere | Tagged Aardvark Alley, annunciation, Bible, Bible history, biography, Christ, Christian, Christian feasts, Christianity, Christology, Church History, Church Year, commemoration, exegetical theology, Gabriel, hagiography, historical theology, jesus, Jesus Christ, liturgical calendar, Lutheran, Lutheran Confessions, Lutheranism, martin luther, Mother of God, New Testament, scripture, systematic theology, Theology, Theotokos, Virgin Mary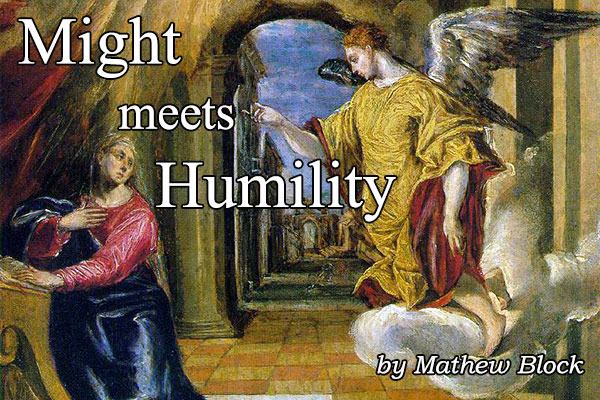 by Mathew Block I sometimes find myself wondering what it must have been like for Mary to be confronted by the angel Gabriel—to be going about daily life when the divine suddenly breaks in on the ordinary so clearly and undeniably. Here the supernatural trespasses on the natural in an unexpected, indeed, unexpectable way: an angel appears with a message from God Himself. This isn't your typical Sunday School Christmas Program angel, either—a cute little kid in an oversized gown, white wings, and a droopy halo. We tend to imagine angels in …
Posted in Lutheran Church -- Canada, Proclaimation | Tagged advent, angel, Angels, annunciation, archangel, Christmas, Feature Stories, Gabriel, Headline, humility, Incarnation, jesus, Magnificat, Mary, Mathew Block, might, Mother of God, Theotokos
Topics of Discussion: (1) Ruminations with Wes Reimnitz. (2) All about angels. (3) Caller: Gabriel not mentioned as archangel but Michael is.
Posted in KFUO AM (LCMS - St. Louis), Lutheran Media | Tagged Angels, Gabriel, Law and Gospel, Michael the archangel, ruminations, Wes Reimnitz
Topics of Discussion: (1) Ruminations with Mark Smith. (2) Pope not knowing Law and Gospel distinctions when imploring for a kinder attitude towards sinners. (3) Caller: Were not Gabriel and Michael archangels?
Posted in KFUO AM (LCMS - St. Louis), Lutheran Media | Tagged Gabriel, Law and Gospel, Mark Smith, Michael, Pope, ruminations
25 March, New Testament Luke 1:26-38 tells us how the angel Gabriel announced to Mary of Nazareth that she had been chosen to be the mother of the Christ and her response. Mary, a virgin pledged to marry Joseph, briefly wondered how this could be, sin…
Posted in Lutheran Blogosphere | Tagged Aardvark Alley, annunciation, Bible, Bible history, biography, Christ, Christian, Christian feasts, Christianity, Church History, Church Year, commemoration, exegetical theology, Gabriel, hagiography, historical theology, jesus, Jesus Christ, liturgical calendar, Lutheran, Lutheran Confessions, Lutheranism, martin luther, Mother of God, New Testament, scripture, Theology, Theotokos, Virgin Mary
25 March, New Testament Luke 1:26-38 tells us how the angel Gabriel announced to Mary of Nazareth that she had been chosen to be the mother of the Christ and her response. Mary, a virgin pledged to marry Joseph, briefly wondered how this could be, sin…
Posted in Lutheran Blogosphere | Tagged Aardvark Alley, annunciation, Bible, Bible history, biography, Christ, Christian, Christian feasts, Christianity, Church History, Church Year, commemoration, exegetical theology, Gabriel, hagiography, historical theology, jesus, Jesus Christ, liturgical calendar, Lutheran, Lutheran Confessions, Lutheranism, martin luther, Mother of God, New Testament, scripture, Theology, Theotokos, Virgin Mary