Browse:
Home
/
Grace Alone
$postcount=0;?>
Pr. Matthew Wurm of Mount Calvary Lutheran-Brookings, SD Download the June/July issue of The Lutheran Witness Free
Posted in Issues Etc | Tagged Faith Alone, Grace Alone, Podcast, reformation, Scripture Alone, Sola Fidei, sola gratia, sola scriptura
Are sinners really welcome in our churches? Well, of course! Lutherans know this instinctively. Our Divine Service almost always begins with a clear confession of sin followed by absolution. If we ask if some are better off than others, we know the Scriptures: "None is righteous, no, not one; no one understands, no one seeks for God. All have turned aside, together they have become worthless; no one does good, not even one" (Romans 3:10-12). In other words, we know that when we say the creed, we can believe the "holy Christian Church" is "the communion of saints" only because of the next phrase in the creed: we believe in "the forgiveness of sins." So… there's only one kind of . . .
Read All
Posted in Lutheran Blogosphere | Tagged Grace Alone, Herb's Posts, Sin, Witness Mercy Life Together (Officers and executive staff of the LCMS)
Reformation Week — "GRACE ALONE" — with guest Rev. Dave Boisclair of Faith & Bethesda Lutheran Churches in North St. Louis, Missouri.
Posted in KFUO AM (LCMS - St. Louis), Lutheran Media | Tagged Dave Boisclair, Grace Alone, reformation, The Bible Study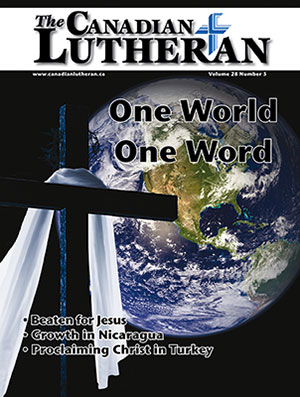 by Mathew Block "It is by grace you have been saved, through faith—and this not of yourselves, it is the gift of God—not by works, so that no one can boast" (Ephesians 2:8-9). This is the refrain, the key doctrine which echoes through the work of Martin Luther and the other Reformers of the 16th century: the idea that we are saved and declared righteous—that we are justified—through the grace of God alone, purchased by Christ at the cross and given to us in faith. It's not a matter of our good …
Posted in Catechesis, Lutheran Church -- Canada | Tagged 2 Corinthians, Ephesians, Faith, Faith Alone, Feature Stories, grace, Grace Alone, Headline, Justification, martin luther, Missions, Philip Melanchthon, Philipp Melanchthon, reformation, Romans, sola fide, St. Paul, Table Talk
For by grace you have been saved through faith. And this is not your own doing; it is the gift of God, not a result of works, so that no one may boast. (Ephesians 2:8-9 ESV)
Life is hard in general. Life following Christ, being one of His disciples, in this broken sinful world is exponentially harder. We experience times of joy which are few and far between the tough times. When these times come many of us will go into prayer and pray hard we do diligently. We pray like King David and Solomon in our times of need. In the rush for a quick response from God we either try to fix things on our own or turn . . .
Read All
Posted in Devotions | Tagged Christ Alone, Grace Alone, LCMS, Lutheran, lutheran church missouri synod
Pr. Will Weedon, Director of Worship for the Lutheran Church-Missouri Synod "The Lutheran 'Solas' in the Fathers of the Church" by Pastor Will Weedon
Posted in Issues Etc, Lutheran Media | Tagged Christ Alone, Church Fathers, Early Church, Faith Alone, Grace Alone, Podcast, reformation, Scripture Alone, Sola Christus, sola fide, sola gratia, sola scriptura, Solas