$postcount=0;?>
Pastor Bryan Wolfmueller of Hope Lutheran-Aurora, CO Table Talk Radio Daily Bible Meditation Around the Word Weekly Bible Studies Around the Word Weekly Devotions Hope Lutheran Church Wolfson Creative
Posted in Issues Etc | Tagged Herod, Holy Week, Podcast, Pontius Pilate, sanhedrin, Trials of Jesus
Posted in Catechesis, Lutheran Media, Worldview Everlasting - Videos | Tagged fishers of men, Herod, Isaiah 52, Jeremiah 16:14ff, John the Baptist, Mark 1, vlog
6 January, New Testament The Epiphany season begins today, with the Feast of the Epiphany. This day celebrates the Wise Men bringing their gifts of gold, frankincense, and myrrh to the Christ Child. The word Epiphany means "showing" or "manifestation"…
Posted in Lutheran Blogosphere | Tagged Aardvark Alley, Bethlehem, Bible, Bible history, Christ, Christian, Christian feasts, Christianity, Christology, Church History, Church Year, commemoration, Epiphany, exegetical theology, festivals, God's Word, Gospel, Herod, Herod the Great, historical theology, jesus, Jesus Christ, liturgical calendar, Lutheran, Lutheranism, Magi, Matthew 2:1-12, New Testament, scripture, Theology, Wise Men, Word of God
28 December, New Testament This day commemorates the slaughter of Bethlehem's children by Herod the Great (Matthew 2:16-18), as he attempted to destroy the Usurper to his throne. Herod, his jealousy inflamed by the account given by the Wise Men (Matth…
Posted in Lutheran Blogosphere | Tagged Aardvark Alley, Bethlehem, Bible, Bible history, biography, Christ, Christian, Christian feasts, Christianity, Christology, Church History, Church Year, commemoration, exegetical theology, festivals, Flight to Egypt, hagiography, Herod, Herod the Great, historical theology, Holy Innocents, jesus, Jesus Christ, Joseph, liturgical calendar, Lutheran, Lutheranism, Magi, martyrdom, martyrs, Mary, New Testament, saints' days, sanctorial calendar, scripture, Theology, Wise Men
Arise therefore, and be doing, and the Lord be with thee. (1 Chronicles 22:16) and Behold, the angel of the Lord appeareth to Joseph in a dream, saying, "Arise, and take the young child and his mother, and flee into Egypt, …
Continue reading →
. . .
Read All
Posted in Lutheran Blogosphere | Tagged arise, build, Egypt, Herod, Wisdom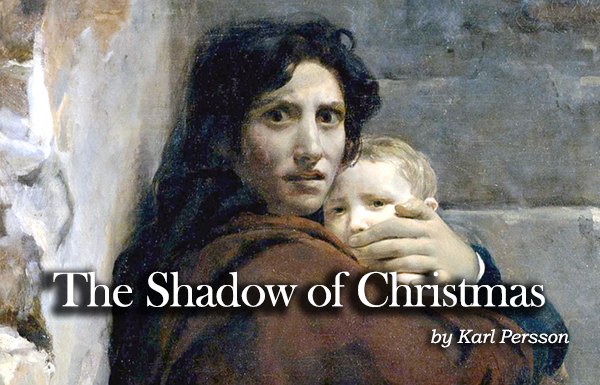 by Karl Persson "They said there'll be snow at Christmas. They said there'll be peace on Earth. But instead it just kept on raining. A veil of tears for the virgin birth." So sings Greg Lake, disaffected by Christmas—and he is not alone. Perhaps it is because it is a season so touched by light that we are also more aware of the depth of the darkness around us—"the people who walked in darkness have indeed seen a great light" (Isaiah 9:2), but that makes the darkness that remains around us that …
Posted in Lutheran Church -- Canada | Tagged advent, babies, boys, Christmas, disenchanted, Feature Stories, Headline, Herod, infants, Jeremiah 31:15, jesus, Karl Persson, killed, Mary, Massacre of the Holy Innocents, Matthew 2:18, murdered, Rachel weeping for her children, sad, sadness, Slaughter of the Holy Innocents, slaughtered
The text for this lesson is Acts 12 Key Point Like Peter, we may suffer because of the sins of others, but God's will is always done. His Word is never proclaimed in vain, but breaks the chains of sin that bind people and sets them free. Law: In this world of sin, the Church of […]
Posted in Catechesis, CPH Seeds of Faith Podcast, Lutheran Media | Tagged angel, Herod, jailer, James, Peter, Podcasts, prison
6 January, New Testament The Epiphany season begins today, with the Feast of the Epiphany. This day celebrates the Wise Men bringing their gifts of gold, frankincense, and myrrh to the Christ Child. The word Epiphany means "showing" or "manifestation"…
Posted in Lutheran Blogosphere | Tagged Aardvark Alley, Bethlehem, Bible, Bible history, Christ, Christian, Christian feasts, Christianity, Christology, Church History, Church Year, commemoration, Epiphany, exegetical theology, festivals, God's Word, Gospel, Herod, Herod the Great, historical theology, jesus, Jesus Christ, liturgical calendar, Lutheran, Lutheranism, Magi, Matthew 2:1-12, New Testament, scripture, Theology, Wise Men, Word of God
The Martyrdom of the Holy Innocents – Gustave Dore
When they had gone, an angel of the Lord appeared to Joseph in a dream. "Get up," he said, "take the child and his mother and escape to Egypt. Stay there until I tell you, for Herod is going to search for the child to kill him." So he got up, took the child and his mother during the night and left for Egypt, where he stayed until the death of Herod. And so was fulfilled what the Lord had said through the prophet: "Out of Egypt I called my son." When Herod realized that he had been outwitted by the Magi, he was furious, and he gave orders to kill . . .
Read All
Posted in Lutheran Blogosphere | Tagged Christmas, Egypt, Herod, Matthew, murder
28 December, New Testament This day commemorates the slaughter of Bethlehem's children by Herod the Great (Matthew 2:16-18), as he attempted to destroy the Usurper to his throne. Herod, his jealousy inflamed by the account given by the Wise Men (Matth…
Posted in Lutheran Blogosphere | Tagged Aardvark Alley, Bethlehem, Bible, Bible history, biography, Christ, Christian, Christian feasts, Christianity, Christology, Church History, Church Year, commemoration, exegetical theology, festivals, hagiography, Herod, Herod the Great, historical theology, jesus, Jesus Christ, Joseph, liturgical calendar, Lutheran, Lutheranism, Magi, martyrdom, Mary, New Testament, saints' days, sanctorial calendar, scripture, Theology, Wise Men