$postcount=0;?>
In the course of writing a searching new book entitled The Road to Character, New York Times columnist David Brooks decided that you can't really think about moral ideas very well without the vocabulary that religions bring, even if you don't believe them. So he read all kinds of books, including Christian theology, including the
[Read More…]
. . .
Read All
Posted in Lutheran Blogosphere | Tagged Bible, Character, Ethics, humility, Philosophy, Theology
Many ask, "If God exists, why He doesn't show himself? Then we would worship him." Answers have been given from reason, philosophy, and piety, but God is not impressed with that. His reasons are personal. Linus told Charlie Brown what he was going to do when he grew up. "When I get big I'm going to be a humble little country doctor. I'll live in the city, see, and every morning I'll get up, climb into my sports car and zoom into the country. Then I'll start healing people. I'll heal everybody for miles around. I'll be a world-famous humble little country doctor." We laugh, but that's us, and we expect God to be like us and show off. If . . .
Read All
Posted in Lutheran Blogosphere | Tagged humility, Trinity
(1) Tracy Tuffy talks about CUW's Study Abroad programs, (2) Rev. Steve Schave talks about Urban and Inner City Mission, and (3) Rev. Brian Westgate looks at Philippians 1:21-2:11 and gives today's sermonette.
Posted in KFUO AM (LCMS - St. Louis), Lutheran Media | Tagged abroad studies, Christ, Christ's Example of Humility, example, global scholars, His Time, humility, Philippians 1, schave, tuffey, urban inner city, Westgate
Hear what's going on today with Rev. Craig Donofrio.
Posted in KFUO AM (LCMS - St. Louis), Lutheran Media | Tagged Christ, fathers, Feasts, humility, Jewish, Kevin Parviz, March 18, ministry, reaching out to jews, Reformation Rush Hour, walt snyder, Warren Graff
It's easy to think we're smarter than we actually are. We live in a time when technology has put unprecedented amounts of information at our fingertips. When compared to most people in most places at most times, we live in luxury. We confess the faith in its truth and purity. It's easy for us to become like King Uzziah, strong and proud. It's easy for us to think our wisdom surpasses that of Solomon. But pride goes before destruction, and a haughty spirit before a fall (Proverbs 16:18). The Lord has a Day against all that is proud and lofty, against all that is lifted up, against all the cedars of Lebanon, against all lofty mountains, against all the lofty . . .
Read All
Posted in Lutheran Blogosphere | Tagged humility, Wisdom
There's nothing like a family gathering to raise the blood pressure. If your family is anything like mine, you've probably experienced your share of holiday drama (but that's why we love our families, right?). Things are said and done—often not out of malice, but ignorance—but we can only take so much before the pressure becomes so great that we finally burst. When this happens, it's not pretty. The typical aggressive and passive aggressive ways of dealing with our frustrations (screaming matches and gossiping with others) are poor surrogates for true relief and only add fuel to the fire. But as usual, Christ shows us a more excellent way (1 Corinthians 12:31). Here are a few things you can do to . . .
Read All
Posted in Lutheran Blogosphere | Tagged Christmas, Confession, drama, family, gossip, Holidays, humility, Prayer, Sin
Last week, I had to do one of the most humiliating things a pastor has to do. At least I found it that way. After months of reminding parishioners to let us know whenever the church needs to pray for them or for someone close to them — I had to add my name to the congregation's prayer list. It was for a minor surgery that would cause me to miss the Divine Service one weekend and a couple of days thereafter; the Lord provided skilled physicians and everything went flawlessly. But talk about humbling! Part of my God-given job is to pray for others. God has promised to hear my prayers and the prayers of all the faithful in . . .
Read All
Posted in Lutheran Blogosphere | Tagged humility, Pastors, Prayer, Uncategorized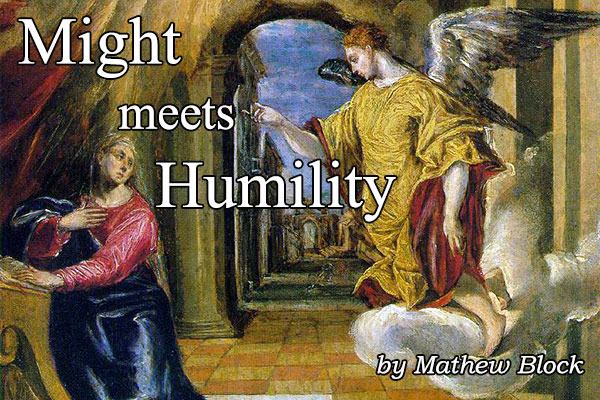 by Mathew Block I sometimes find myself wondering what it must have been like for Mary to be confronted by the angel Gabriel—to be going about daily life when the divine suddenly breaks in on the ordinary so clearly and undeniably. Here the supernatural trespasses on the natural in an unexpected, indeed, unexpectable way: an angel appears with a message from God Himself. This isn't your typical Sunday School Christmas Program angel, either—a cute little kid in an oversized gown, white wings, and a droopy halo. We tend to imagine angels in …
Posted in Lutheran Church -- Canada, Proclaimation | Tagged advent, angel, Angels, annunciation, archangel, Christmas, Feature Stories, Gabriel, Headline, humility, Incarnation, jesus, Magnificat, Mary, Mathew Block, might, Mother of God, Theotokos