Browse:
Home
/
Intercession
$postcount=0;?>
For the remaining days of Christmas, here is a brief pastoral letter that helps us understand: who Jesus is what Jesus did what Jesus does what Jesus will do So much said in so few words so easy to understand! Used here with the kind permission of the author,
Pastor David Kind
,
University Lutheran Chapel
, from the Chapel's Newsletter Fall/Winter 2015, Vol 15, no. 2. God Made Accessible Historically, the celebration of Christmas is a bit of a late comer. Christians have from the very earliest times kept days like Easter and Pentecost. But Christmas does not find its way into our calendar until the fourth century. The Church's focus early on was the death and resurrection of . . .
Read All
Posted in Lutheran Blogosphere | Tagged Incarnation, Intercession, person of Christ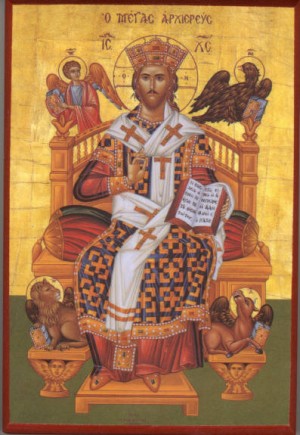 In keeping with the theology of the Old Testament, some Christian churches (including many Lutheran ones)
[i]
have retained the custom of referring to clergy as "priests." Now it is not my purpose to argue for a return to this terminology or to disparage the use of the designation "pastor." However, when we react against this terminology as if it were from the devil, we operate with a deficient understanding of pastoral ministry. In my own mind there has been wall of separation between the word "priest" and anything that our Lord might expect of a pastor. Part of this is because I was raised Roman Catholic, and that fact in itself has sometimes made Lutherans suspicious of me.
[ii]
Worse, . . .
Read All
Posted in Lutheran Blogosphere | Tagged customs, Divine Service, Intercession, Office of the Holy Ministry, Pastor, Pastoral Office, priest, Roman Catholicism, sacrifices, Secularism, vestments, Vocation
Day of Supplication and Prayer St. Peter Lutheran Church (Chapel) Joel 2:13 (2:12-19) September 11, 2013 The Lord our God Repenteth of the Evil Jesus And rend your hearts and not your garments, and turn to the Lord your God, for He is gracious and merciful, slow to anger, and of great kindness, and repenteth Him of the evil. Joel 2:13 Luther looked on the Turk—that is, the invading Muslim armies—as the scourge of God, the punishment of God on a godless Christendom. Should we not recognize those attacks that came to us over a decade ago as the stroke of God? It doesn't mean that God is for jihad, but it is a call for us to repent. God . . .
Read All
Posted in Proclaimation | Tagged Intercession, Priesthood, repentance
He (the suffering servant) made intercession for the transgressors. (Isaiah 53:12 NIV) When they came to the place called the Skull, there they crucified him, along with the criminals–one on his right, the other on his left. Jesus said, "F…
Posted in Lutheran Blogosphere | Tagged Intercession