Browse:
Home
/
International Lutheran Council
International Lutheran Council
$postcount=0;?>
So what were the biggest stories or most important developments in confessional Lutheranism for 2015? I have come up with 6, which I give after the jump. We really need 10. Can we come up with 4 more?In no particular order. . . 1. The major confessional Lutheran church bodies are not in fellowship with
[Read More…]
. . .
Read All
Posted in Lutheran Blogosphere | Tagged Church, Confessional Lutheranism, History, International Lutheran Council, lutheran church missouri synod, Lutheranism
International representatives from Lutheran churches around the globe gather and worship at the historic St. Mary's church in Wittenberg, May 6. Church leaders from 41 countries representing 23 million Lutherans are in Wittenberg for the Conference on Confessional Leadership in the 21st Century, May 6-7. (LCMS Communications/Erik M. Lunsford) NOTE: Just over five years ago, in June of 2010, a group of 25 leaders representing a dozen Lutheran churches from around the globe met on the campus of Concordia Theological Seminary in Fort Wayne, Indiana, for what was described as a "Confessional Leadership Conference" sponsored by the Commission on Theology and Church Relations (CTCR) of the LCMS. This genesis of this conference was a resolution (3-03) adopted by the 2007 . . .
Read All
Posted in Lutheran Blogosphere | Tagged Al's Posts, CTCR, ILC, International Lutheran Council, LCMS, Press Release, SELK, Witness Mercy Life Together (Officers and executive staff of the LCMS), Wittenberg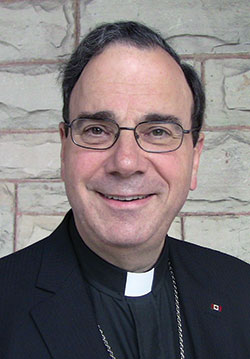 ONLINE – President Robert Bugbee of Lutheran Church–Canada has penned this year's Christmas greetings from the International Lutheran Council (ILC). "God is sending Bethlehem's Good News out across the world once again this Christmas," President Bugbee writes. "His Christ is coming into all sorts of lands and situations. He is there where people are terrified over the spread of Ebola, because they have witnessed loved ones and friends cut down in the prime of life and cannot see the end of the outbreak. He wants to enter into homes and families …
Posted in Lutheran Church -- Canada | Tagged 2014, Christmas, Christmas greetings, Headline, ILC, International Lutheran Council, International News, LCC, lutheran church canada, National News, Robert Bugbee
International Lutheran Council reps discuss the relationship of the ILC with the Lutheran World Federation and possible ecumenical relations with the Pontifical Council for Promoting Christian Unity.(Read more…)
Posted in Church Bodies - Official Outlets, LCMS Blog, Lutheran Church -- Missouri Synod, News, Ongoing DIscussions | Tagged International Lutheran Council, Lutheran World Federation, News, Reporter, Roman Catholic, Top Story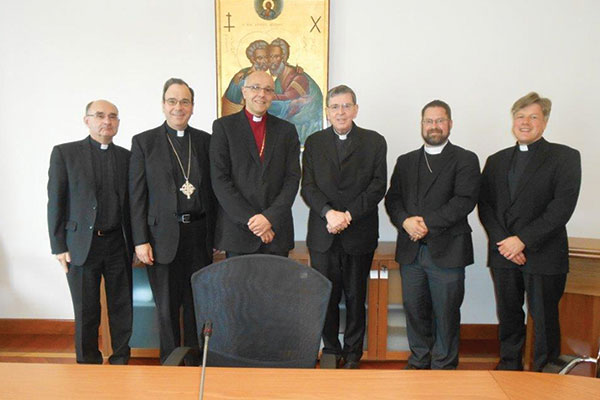 by Mathew Block VATICAN CITY – The International Lutheran Council (ILC) and the Pontifical Council for Promoting Christian Unity (PCPCU) have announced they will begin holding informal international dialogues. The announcement came at the end of November meetings in Rome between the ILC and the PCPCU. The ILC was represented by its Chairman (Bishop Hans-Jörg Voigt of the Independent Evangelical Lutheran Church in Germany), Vice-Chairman (President Robert Bugbee of Lutheran Church–Canada), Executive Secretary (Rev. Dr. Albert B. Collver), and Professor Werner Klän (Lutheran Theological Seminary in Oberursel, Germany). The Roman Catholic Church …
Posted in Lutheran Church -- Canada, News, Ongoing DIscussions | Tagged Bishop Hans-Jörg Voigt, Canadian Conference of Catholic Bishops, Cardinal Kurt Koch, Feature Stories, Headline, ILC, International Lutheran Council, International News, LCC, lutheran church canada, Monsignore Dr. Matthias Türk, PCPCU, Pontifical Council for Promoting Christian Unitity, Prof. Dr. Werner Klan, Rev. Dr. Albert B. Collver, Rev. Dr. Robert Bugbee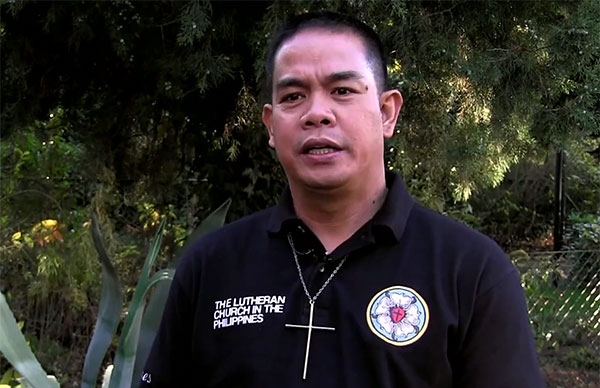 PHILIPPINES – As the Philippines struggles in the aftermath of a devastating typhoon, Lutheran Church–Canada (LCC) is calling on its members to offer up prayers on behalf of the suffering. More than 2,200 people have been confirmed dead, with thousands more injured and hundreds of thousands displaced. The destruction of homes and infrastructure is widespread. "The people in the Philippines have suffered great devastation," said LCC's Executive for Missions and Social Ministry, Rev. Dr. Leonardo Neitzel. "Let us commit to keeping in prayer our brothers and sisters in that part of …
Posted in Lutheran Church -- Canada, News | Tagged Feature Stories, Headline, ILC, International Lutheran Council, International News, LCMS, LCP, Lutheran Church in the Philippines, lutheran church missouri synod, philippines, President James Cerdeñola, Typhoon Haiyan
Leaders of church bodies and seminaries worldwide gather Aug. 8-11 in Palanga, Lithuania, for the International Lutheran Council's Fifth World Seminaries Conference to explore "Suffering, persecution and martyrdom as a mark of the church." (
Read more…
)
Posted in Church Bodies - Official Outlets, LCMS Blog, Lutheran Church -- Missouri Synod, News | Tagged International Lutheran Council, News, persecution, Reporter, Top Story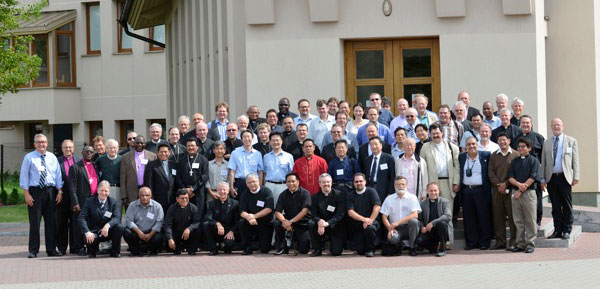 LITHUANIA – From August 8-11, the International Lutheran Council (ILC) held its World Seminary Conference at Palanga Lutheran Church in Palanga, Lithuania. While not a member of the International Lutheran Council, the Evangelical Lutheran Church in Lithuania (ELCL—a Lutheran World Federation church) had volunteered to host the ILC conference. More than 80 participants gathered for the conference, to discuss the theme "Suffering, Persecution, and Martyrdom as a Mark of the Church." Lithuania was a fitting location for the event, said ELCL Bishop Mindaugas Sabutis, given that Christians in Lithuania have faced …
Posted in Lutheran Church -- Canada, News | Tagged Education News, Headline, ILC, International Lutheran Council, International News, Mark of the Church, Martydom, persecution, suffering