Browse:
Home
/
John Nunes
$postcount=0;?>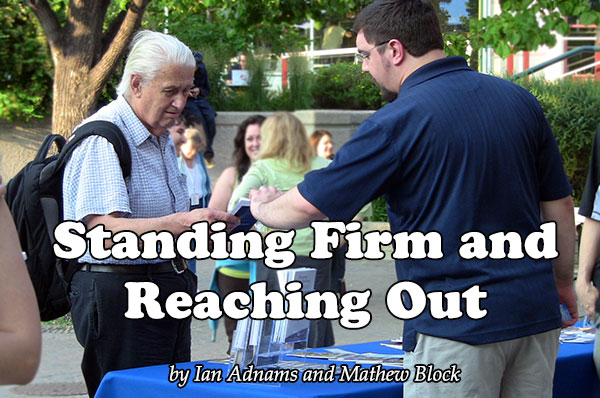 by Ian Adnams and Mathew Block Five years ago, Lutheran Church–Canada's (LCC) 2008 synodical convention voted to celebrate LCC's 25th Anniversary with a national outreach-oriented event, to be held in conjunction with that year's triennial National Youth Gathering (NYG). In the intervening years, LCC's auxiliary, the International Lutheran Laymen's League (Lutheran Hour Ministries), introduced Regional Outreach Conferences (ROC), events where Lutherans could receive inspiration, encouragement, and practical training for sharing their faith. Organizers brought together LCC's anniversary event and LHM's outreach conferences, thereby drawing on the experience, resources and expertise of …
Posted in Lutheran Church -- Canada, Lutherans in Society | Tagged 25th anniversary, Feature Stories, Gregory Seltz, Headline, John Nunes, LCC, lutheran church canada, Lutheran Hour Ministries, Lutheran Laymen's League of Canada, Micah Parker, National News, national youth gathering, nyg, outreach, reach out canada, Robert Bugbee, Stand Firm
"Doing Justice: The Church's Faith in Action" was the title of the 23rd Annual Theological Symposium, held Sept. 18-19, 2012, on the campus of Concordia Seminary, St. Louis. The keynote lecture was delivered by renowned expert in legal history and religious liberty, John Witte, Jr. The main presenters for the event were John Nunes, Kathryn Galchutt, Bernhard Seter, and Mark Junkans. Erik Herrmann and Leopoldo Sánchez provided faculty responses. Sectional presenters included Janice Staral, Charles Froh, Luke Kammrath, Scott Eberlein, Charles Arand, David Lewis, Paul Robinson, and Bruce Hartung. Also recently announced is the
2013 Theological Symposium
, to be held September 24-25, 2013, on the theme of "From the Creation to the New Creation: . . .
Read All
Posted in Lutheran Blogosphere | Tagged Charles Arand, Christian Ethics, Erik Herrmann, John Nunes, justice, Leopoldo Sanchez, The Quad
April 25, 2013 is an Encore of December 10, 2012. Little Things Make Big Differences By John Nunes Little Things Make Big Differences is a story about Rehema, a young girl who lives in the African country of Tanzania. When she was a baby,…
Posted in KFUO AM (LCMS - St. Louis), Lutheran Media | Tagged A Story about Malaria, BookTalk, John Nunes, Little Things Make Big Differences
World Lutheran News Digest on 04.22.2013 by KFUO Reporters: Buzz Ullrich and Kip Allen This is ORANGE OUT FOR MALARIA week – and Thursday, 25 April, 2013, is WORLD MALARIA DAY. WLN Digest Minute is a Broadcast Ministry of …
Posted in KFUO AM (LCMS - St. Louis), Lutheran Media | Tagged Gretchen King, John Nunes, Lutheran Malaria Initiative, WLN Digest