$postcount=0;?>
Suffering, persecution and martyrdom — the Rev. Dr. Petkunas talks history and the present situation in Europe. (
Read more…
)
Posted in Church Bodies - Official Outlets, LCMS Blog, Lutheran Church -- Missouri Synod, Ongoing DIscussions | Tagged journal, Journal of Lutheran Mission
The Rev. Dr. Albert B. Collver III unpacks Peter Pikkert's 2008 book on mission work in the Middle East. (
Read more…
)
Posted in Church Bodies - Official Outlets, LCMS Blog, Lutheran Church -- Missouri Synod, Reviews | Tagged journal, Journal of Lutheran Mission
(1) Beverly Bennett talks about the International Student Ministry, (2) Rev. Bart Day talks about the new Journal of Lutheran Mission, and (3) Rev. Todd Frusti looks at Hebrews 3:1-19 and gives today's sermonette.
Posted in KFUO AM (LCMS - St. Louis), Lutheran Media | Tagged April 15, beverly bennett, China, Hebrews 3, His Time, hong kong, international student ministry, jesus, journal, Moses, todd frusti
Hear what's going on today with Rev. Craig Donofrio.
Posted in KFUO AM (LCMS - St. Louis), Lutheran Media | Tagged Bart Day, Disaster, Hobby Lobby, journal, lawsuit, March 24, michael meyer, mission, Randy Golter, Reformation Rush Hour, rob daughty, rob doughty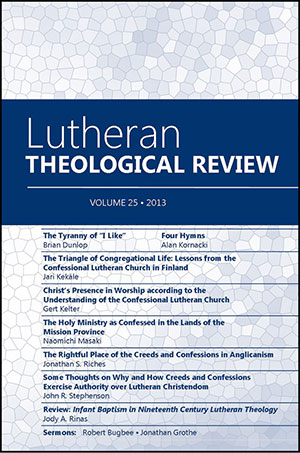 CANADA – Concordia Lutheran Theological Seminary (St. Catharines, Ontario) and Concordia Lutheran Seminary (Edmonton) have released a new volume of Lutheran Theological Review. Lutheran Theological Review is an annual journal co-published by Lutheran Church–Canada's (LCC) two seminaries. It provides a forum for professors and pastors to publish their research, and for the seminaries to provide resources to stimulate the minds of LCC's pastorate and laity. Free copies are sent to every pastor in LCC, and paid subscriptions are available. As a public service to the church, Lutheran Theological Review is also provided …
Posted in Lutheran Church -- Canada, Reviews | Tagged CLS, CLTS, Concordia Lutheran Seminary, Concordia Lutheran Theological Seminary, Edmonton, Education News, Headline, journal, LCC, LT, lutheran church canada, Lutheran Theological Review, St. Catharines, Theology