$postcount=0;?>
Could it have been the Bible's "Leviathan"?An Australian farmer has discovered the giant fossilized jaw of a "100-million-year-old" sea animal known as Kronosaurus queenslandicus. It is "the most complete mandible of a Kronosaurus queenslandicus" ever found, according to Dr. Timothy Holland, curator of the Kronosaurus Korner museum in Queensland, Australia. The Kronosaurus was a ferocious plesiosaur."I was out poisoning prickly acacia and saw some objects shining in the distance," Queensland farmer Robert Hacon said. "At first glance I thought they were fossilized mussel shells, so I drove away. Ten minutes later my curiosity got the better of me and I turned back. I jumped out of my buggy and cast my eyes upon these enormous pieces . . .
Read All
Posted in Lutheran Blogosphere | Tagged Australia, Fossils, Leviathan, whale
An 18-foot sea serpent found this week off the California coast makes us wonder about the ocean's secrets. Summary: Staff and students at a Southern California school were in for quite a surprise when they spotted an 18-foot-long
serpentlike sea monster
on the ocean floor in 20 feet of water. It took 25 people to lift the bony creature with reddish fins out of the ocean before the group posed for photographs with their discovery.The animal has been identified as an oarfish. Not much is known about oarfish because they tend to live deep in the ocean. Scientists do know they can grow to be twice as long as the creature which was discovered. The huge fish has gotten . . .
Read All
Posted in Lutheran Blogosphere | Tagged fish, Jonah, Leviathan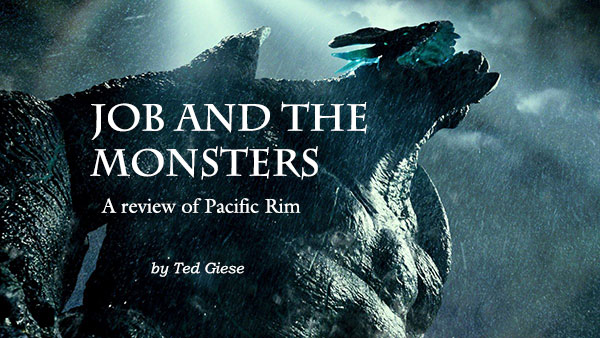 by Ted Giese Pacific Rim is not a dumb action film. It's visually sophisticated, complex and—if you like epic sci-fi—it could be the best fun you'll have in theatre this summer. There's more to this film than watching giant robots battle giant monsters. As it presents a world where ingenuity and humanity is more powerful than brute strength, Pacific Rim focuses in on themes of cooperation and relying on each other in times of trouble. With this emphasis on human resourcefulness, there doesn't appear to be a spiritual core to the …
Posted in Lutheran Church -- Canada, Reviews | Tagged Christian, Feature Stories, Headline, Jaeger, Job, Kaiju, Leviathan, Lutheran, movie review, Pacific Rim, ted giese