Browse:
Home
/
Lutheran identity
$postcount=0;?>
Hear what Rev. Craig Donofrio has to say today!
Posted in KFUO AM (LCMS - St. Louis), Lutheran Media | Tagged Alfanso Espinosa, Concordia University System, Economics, Lutheran identity, Raymond Keating, Reformation Rush Hour, School choice
Lutheran Immigration and Refugee Services (LIRS) receives substantial support from the Lutheran Church – Missouri Synod. It is a partnership that needs to be terminated for the sake of the LCMS's declared mission to "make known the love of Christ", and to preserve the integrity of the LCMS's third "
mission priority
" which is to "perform human care in close proximity to Word and Sacrament ministry". LIRS performs human care, but it has abandoned even a pretense at doing it near Word and Sacrament ministry. What is the point of "saving" people if it is not for the application of Luke 12:5? What exactly is Lutheran or even Christian about LIRS that the LCMS should continue to support it . . .
Read All
Posted in Lutheran Blogosphere | Tagged Human Care, Immigration, LIRS, Lutheran identity, Missions, refugees, Word and Sacrament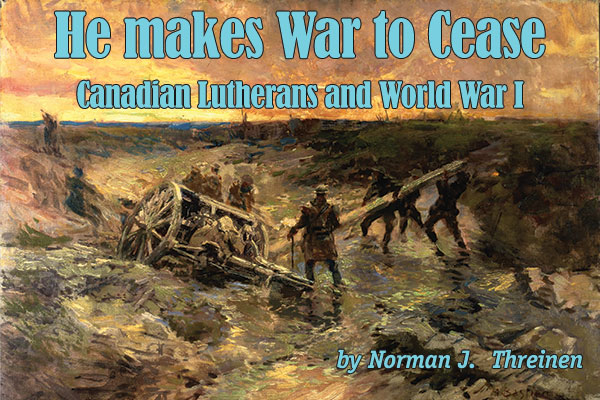 by Norman J. Threinen On June 28, 1914¸ Archduke Franz Ferdinand of Austria was killed in Sarajevo, Serbia, the victim of an assassin's bullet. The assassination of the crown prince of the Austro-Hungarian Empire set in motion decisions that culminated in multiple declarations of war including a declaration by Britain against Germany on August 4. When Britain declared war on Germany, the entire British Empire, including Canada, was also at war. The total cost in human life of the war would eventually be estimated to be eight million dead and twenty-one …
Posted in History, Lutheran Church -- Canada | Tagged antiGerman, antiLutheran, Berlin, Canada, Canadian, Feature Stories, Great War, Headline, Kitchener, LCC, Lutheran, lutheran church canada, Lutheran identity, Lutherans, Norm Threinen, Norman J. Threinen, Rev. Dr. Norman Threinen, War to End All Wars, World War I, World War One, WWI