Browse:
Home
/
Mathew Block
$postcount=0;?>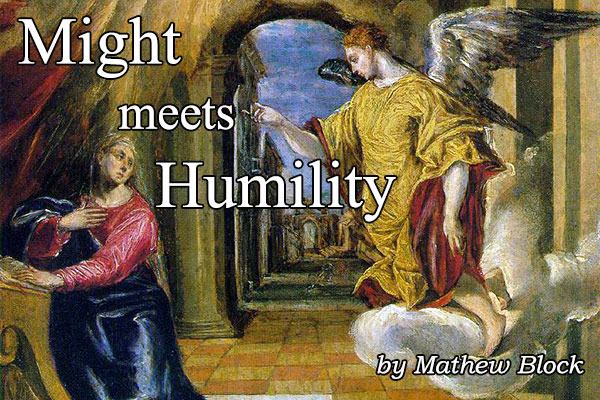 by Mathew Block I sometimes find myself wondering what it must have been like for Mary to be confronted by the angel Gabriel—to be going about daily life when the divine suddenly breaks in on the ordinary so clearly and undeniably. Here the supernatural trespasses on the natural in an unexpected, indeed, unexpectable way: an angel appears with a message from God Himself. This isn't your typical Sunday School Christmas Program angel, either—a cute little kid in an oversized gown, white wings, and a droopy halo. We tend to imagine angels in …
Posted in Lutheran Church -- Canada, Proclaimation | Tagged advent, angel, Angels, annunciation, archangel, Christmas, Feature Stories, Gabriel, Headline, humility, Incarnation, jesus, Magnificat, Mary, Mathew Block, might, Mother of God, Theotokos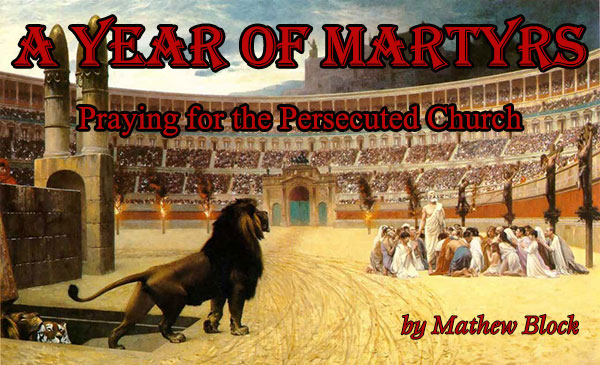 by Mathew Block 2013 has been a deadly year for Christians across the world. Sunday, September 22 marked the deadliest recorded attack ever on Christians in Pakistan, when two suicide bombers stuck All Saints Anglican Church in Peshawar. At least 85 people are dead, with more than 140 others wounded in the attack. At the same time a continent away, an extremist Muslim group attacked the Westgate Mall in Nairobi, Kenya. The perpetrators reportedly allowed Muslims to escape while targeting members of other faiths—the vast majority of which would be Christian, as Christians …
Posted in Lutheran Church -- Canada, Lutherans in Society | Tagged 2013, al-Shabbab, All Saints Anglican Church, Boko Haram, Christian, Coptic, Egypt, Feature Stories, Ghassaniyeh, Headline, IDOP, international day of prayer for the persecuted church, International News, Kenya, Martyr, martyrdom, Mathew Block, Mission News, Nairobi, nigeria, Pakistan, perseuction, Peshawar, Syria, Westgate Mall

ONLINE – On August 14, The Canadian Lutheran published its 1,000th article online: "Job and the Monsters: A review of Pacific Rim." The Canadian Lutheran, the national magazine of Lutheran Church–Canada (LCC), first began publishing online on January 9, 2009. Dr. Ian Adnams—president of The Canadian Church Press—was editor of The Canadian Lutheran at the time, and explains the decision to add an internet counterpart to the magazine in this way: "LCC has been online since 1996, including a website, PDF edition of the magazine, and the InfoDigest mailing list. Adding …
Posted in Lutheran Church -- Canada, News | Tagged Headline, Ian Adnams, LCC, lutheran church canada, magazine, Mathew Block, National News, online, The Canadian Lutheran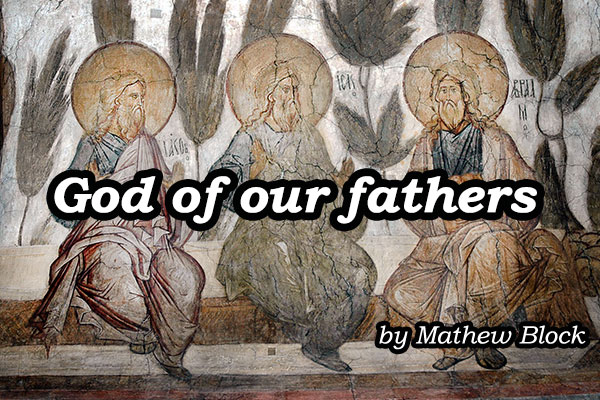 by Mathew Block Moses stood before the burning bush. A Voice had just spoken to him from the flames. "Moses!" it had called. "Moses!" And he had answered: "Here I am." "Do not come any closer," the Voice said. "Take off your sandals for the place where you are standing is holy ground." Then it said: "I am the God of your father, the God of Abraham, the God of Isaac, and the God of Jacob." And Moses hid his face, afraid to look at God. The story is one we all know: …
Posted in Commentary, Lutheran Church -- Canada | Tagged Abraham, Christian, Church, Feature Stories, God of our fathers, God of your fathers, Headline, Isaac, Jacob, jesus, Mathew Block, scripture, story, Table Talk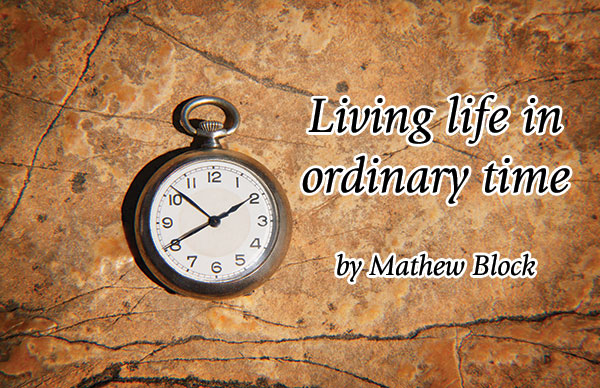 by Mathew Block My wife and I recently began renting a new home, so much of my "time off" lately has been spent unpacking boxes and trying to put the house to rights. Getting the garden in has also been a major concern. Add in preparing this issue of the magazine for press, and it means a pretty busy period as of late. It's little wonder then that I'm looking forward to some upcoming time off to recuperate a bit and get to bed at a decent hour. It's safe to …
Posted in Lutheran Church -- Canada | Tagged daily life, Feature Stories, Headline, Mathew Block, ordinary time, regular life, Table Talk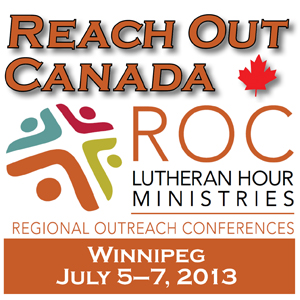 WINNIPEG – In a little more than six weeks hundreds of LCC Lutherans will gather for Lutheran Church—Canada's first-ever national evangelism conference: Reach Out Canada (July 5-7 at the Canad Inns Destination Centre – Fort Gary in Winnipeg). Reach Out Canada is designed to help everyone share their faith naturally in every-day situations as part of who they are in Christ. The event, being planned in conjunction with Lutheran Hour Ministries and Lutheran Laymen's League of Canada, features Rev. Gregory Seltz (Speaker of The Lutheran Hour) and Rev. John Nunes (CEO …
Posted in Lutheran Church -- Canada | Tagged 2013, 25th anniversary, evangelism, Feature Stories, Glenn Schaeffer, Harold Melser, Headline, Helga Danielson, Larry Gajdos, LCC, Leonardo Neitzel, LHM, Lutheran, lutheran church canada, Lutheran Hour Ministries, mark dressler, Mark Larson, Mathew Block, Missions, Missions News, National News, outreach, Peter Kirby, Polly Gregali, reach out canada, Richard P. Cohrs, Robert Bugbee, ROC, Stephen Klinck, Winnipeg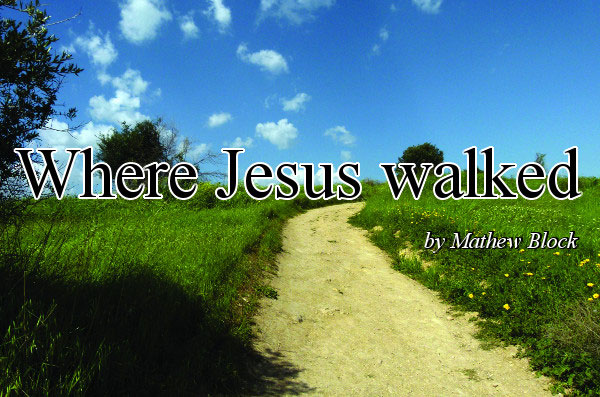 by Mathew Block It's Monday afternoon. We're in Israel, standing in the ruins of Caesarea on the coast of the Mediterranean Sea. Though built more than two thousand years ago, the place is still a marvel to behold. It was once a major sea port, and though some of the great harbour has slipped into the sea, much of the city is still visible to enjoy. You can walk through the hippodrome, where the hooves of horses once thundered in great races, riders urging them on from their chariots, the audience …
Posted in Lutheran Church -- Canada | Tagged Ark of the Covenant, Banias, Bethlehem, Caesarea Maritima, Caesarea Philippi, Cornelius, empty tomb, fact, Feature Stories, fiction, Great Confession, Headline, Herod Antipas, Herod the Great, Herod's Temple, Holy Land, Holy of Holies, Incarnation, Israel, Jerusalem, Jesus Christ, Mathew Block, mercy, Palestine, Paneas, Paul, Peter, Resurrection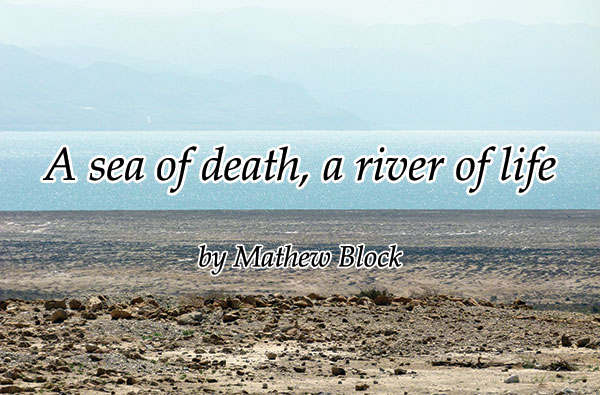 by Mathew Block I was privileged to visit the Dead Sea while on a recent trip to Israel. This sea is famous for two reasons: one, it's the lowest place on earth at 424 meters (1,391 feet) below sea level; and two, it's one of the saltiest bodies o…
Posted in Lutheran Church -- Canada | Tagged baptism, Dead Sea, Feature Stories, Headline, Holy Land, Holy Spirit, Israel, jesus, living waters, Mathew Block, Table Talk, Water
World Lutheran News for March 19, 2013 — featuring Mathew Block talking about his recent trip to the Holy Land along with a media group from the Lutheran Church–Canada.
Posted in KFUO AM (LCMS - St. Louis), Lutheran Media | Tagged lutheran church canada, Mathew Block, Trip to Holy Land, WLN Digest