Browse:
Home
/
New Creation
$postcount=0;?>
Adam did battle with Satan in the Garden Paradise and lost. It was a no-contest, really. By the time round two came around, Eden had been a distant memory and Satan had home-field advantage. The desert wilderness couldn't have been a more ideal setting to tempt the Second Adam. And once again, the devil used food as bait. This time it wasn't the delicious fruit of a tree in Paradise, it was mere bread. But after fasting forty days and forty nights, our Lord was famished. Even stale bread would have tasted like a gourmet meal at this point. The first Adam had every advantage and still succumbed. The Second Adam had the deck stacked against Him, yet emerged victorious.. . .
Read All
Posted in Lutheran Blogosphere | Tagged abortion, Adam, baptism, communion, Death, Eden, Eve, Feminism, forgiveness, God's Word, Invocabit, Lent, lord's supper, New Creation, Order of Creation, pornography, pregnancy, Resurrection, Satan, Selective Service, sermon, Spiritual warfare, temptation, Unity, Women in Combat, women's ordination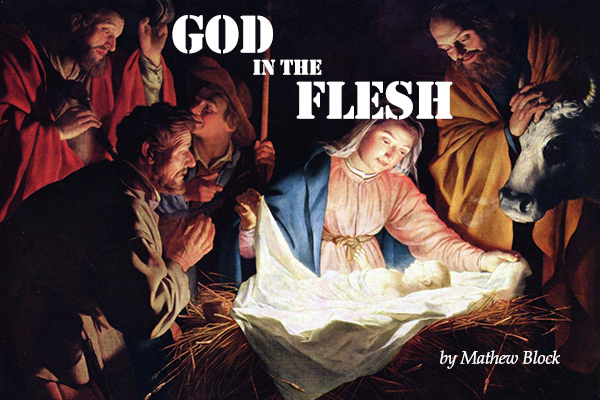 by Mathew Block When it comes to Christmas, the picture of the baby Jesus asleep in a manger is etched in our cultural consciousness. We imagine the little Lord Jesus laying down His sweet head in the hay, while stars twinkle away in the sky. How easy it is to forget that this little child is also, in a way beyond our understanding, the God who made the universe. He is the Word who spoke creation into existence (Genesis 1:3 ff; John 1:1-3). And He is the One who continues to …
Posted in Lutheran Church -- Canada | Tagged Christmas, Feature Stories, Headline, Incarnation, jesus, New Creation, Resurrection, saviour, Table Talk, the meaning of Christmas
Dear Pastor Fisk, Reformed doctrine teaches that there will be a literal new earth after the one we're standing on is destroyed. Proof passages for this include references to animals that are natural enemies frolicking with each other and dining on roughage (See Isaiah 11 and 65). Lutherans see the new earth rather as images of heaven. I see two implications: 1. There will be snakes in heaven (perish the thought.) 2. There will be pets in heaven. (My parents will be please with that.) ~M Dear M, In fact, Lutherans teach that we believe in the resurrection of the dead (of the body) and the life of the WORLD to come. We believe in a very physical "new heavens . . .
Read All
Posted in Lutheran Blogosphere | Tagged Creation, End Times, New Creation, WE Got Answers, Worldview Everlasting - We Got Answers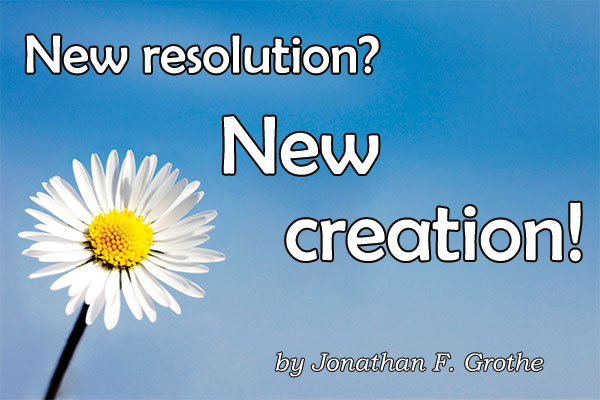 by Jonathan F. Grothe Having long since marked the sidereal cycle, human beings around the world celebrate the start of a "new year," albeit not at the same time. Jewish communities and the Chinese, to give just two examples, reckon the new year differently from the way most of us do. And even our own "Gregorian" calendar has been standardized only since 1582, and not universally followed for years after that. In many cases these celebrations fill the community's need for a religious ritual and/or a cultural festival: parades and parties …
Posted in Lutheran Church -- Canada, Proclaimation | Tagged 2 Corinthians 5:17, Aleksandr Solzheinitsyn, Cancer Ward, Feature Stories, Headline, Jonathan F. Grothe, Jonathan Grothe, New Creation, new heavens and a new earth, new year's resolution, Oleg Kostoglotov, Romans, St. Paul
"From the Creation to the New Creation" will feature main presenters David Schmitt, Jeff Gibbs, Charles Arand, and Paul Raabe. This year's Symposium will include a free Advent sermon series on the theme for all registrants.
Posted in Concordia Theology Blog (CSL), Schools & Seminaries | Tagged Advent sermon series, concordia seminary, Creation, narrative, narrative theology, New Creation, Resurrection, Theological Symposium, What's Happening