$postcount=0;?>
A papyrus "magic charm" refers to the Lord's Supper and "manna from heaven."A fragment from a 1,500-year-old Greek papyrus may be one of the oldest Christian amulets, researchers are saying. Amulets are charms won as protection against evil. The fragment was found among thousands of papyri kept in a library vault at the John Rylands Research Institute at the U. of Manchester in the UK. Research fellow at the institute, Robert Mazza, said it was likely folded up and worn inside a locket or pendant as a kind of protective charm."This is an important and unexpected discovery as it's one of the first recorded documents to use magic in the Christian context and the first charm ever found . . .
Read All
Posted in Lutheran Blogosphere | Tagged Christian, magic, Papyrus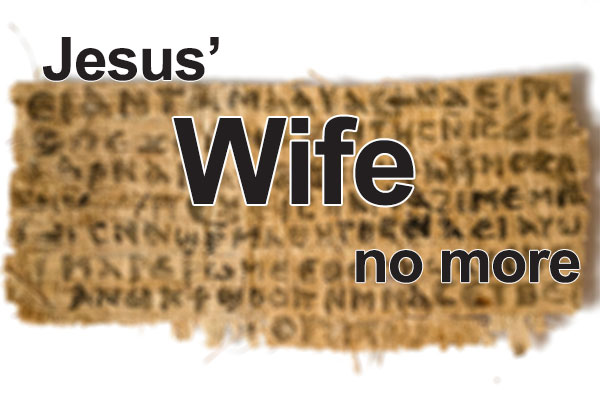 by Mathew Block Back in 2012, Karen L. King, a scholar from Harvard Divinity School, announced the discovery of a Coptic manuscript fragment with some particularly surprising text. Among other things, it reads: "Jesus said to them, my wife…" And there the text breaks off. It's not much, but it was enough to spark a media firestorm, with articles about The Gospel of Jesus' Wife appearing in print and online all over the world. It sounds like the plot of a best-selling thriller: scholars discover a lost manuscript which threatens to turn …
Posted in Lutheran Church -- Canada, News | Tagged Candida R. Moss, CNN, Feature Stories, forgery, Francis Watson, fraud, Gospel of Jesus' Wife, Gospel of John, Gospel of Thomas, handwriting, Headline, Jesus Wife, Josel S. Baden, Karen L. King, manuscript, Papyrus, Paul L. Maier
But that doesn't mean what's on the papyrus fragment is factual."The Gospel of Jesus's Wife" is back in the news. The faded piece of papyrus caused
controversy in 2012
when it was unveiled by a Harvard Divinity School historian. Skepticism ran deep because of two phrases it contained: "Jesus said to them, 'My wife …' " and "she will be able to be my disciple."The papyrus fragment has now been tested by professors of electrical engineering, chemistry and biology from several universities. They report it resembles other ancient papyri from the 4th through 8th centuries. What the tests show is that the fragment seems to have been from an ancient manuscript and is not a modern-day fake. The . . .
Read All
Posted in Lutheran Blogosphere | Tagged disciple, jesus, king, Papyrus