Browse:
Home
/
Passion of Christ
$postcount=0;?>
Wednesday after Reminiscere (Vespers/Final) St. Peter Lutheran Church Passion History, Part 2: Gethsemane February 24, 2016 "Turn Not From His Griefs Away" Iesu iuva Introduction It's easy for us to pass over Jesus' suffering quickly. To not allow it to sink in. That is an indicator of the hardness in our hearts. Even if the account of Jesus' Passion had nothing to do with us, sympathy and love for other people should cause us to feel pity and sadness when we hear about the agonies Jesus suffered without having deserved it in any way. But of course living in the world as it is, we are used to hearing about people suffering, experiencing tragedy, and dying. . . .
Read All
Posted in Lutheran Blogosphere | Tagged Christianity, Lent, Passion of Christ
In Memoriam + Shirley S Woodlawn Funeral Home Psalm 108:12 (Job 19:21-27, 1 Cor. 15:51-57, St. Matthew 27:45-54; 28:1-6) June 23, 2014 "Vain is the Help of Man" Iesu Iuva! Richard, June, Shirley's relatives and friends, Members of St. Peter: Grace and peace to you from God our Father and the Lord Jesus Christ. God's word for our comfort this morning are these words from Psalm 108, which Shirley had underlined in her Bible: Give us help from trouble: for vain is the help of man. What a word for this woman of few words to leave behind! What a marker to leave behind for us on the journey which she has now completed! Give . . .
Read All
Posted in Lutheran Blogosphere | Tagged Passion of Christ
Pastor Paul McCain of Concordia Publishing House
Posted in Issues Etc, Lutheran Media | Tagged martin luther, New Testament, Passion of Christ, Podcast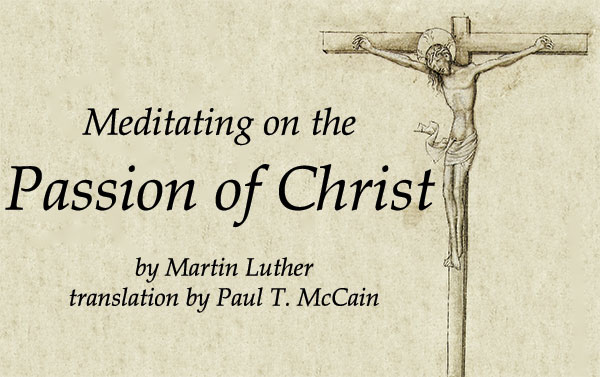 by Martin Luther (translation by Paul T. McCain) When we meditate on the Passion of Christ the right way, we see Christ and are terrified at the sight. Our conscience sinks in despair. This feeling of terror needs to happen so that we fully realize ho…
Posted in Lutheran Church -- Canada | Tagged Cross, Crucifixion, Feature Stories, Good Friday, Headline, Holy Week, Jesus Christ, Lent, martin luther, meditation, meditation on the holy sufferings of christ, Passion of Christ, paul mccain, Son of God