$postcount=0;?>
Margaret Sanger
Speak up for those who cannot speak for themselves, for the rights of all who are destitute. Speak up and judge fairly; defend the rights of the poor and needy (Proverbs 31:8). When dealing with the issue of personhood in light of abortion, we can't ignore the question of babies in the womb with clear signs of mental or physical deformity detected before birth. Abortion in these cases is also disturbing, but may be necessary in the long run to insure the continued upward progression of our race. The more we discourage reproduction, by abortion or sterilization, by persons having genetic defects or undesirable genetic traits, the cleaner and more refined our gene pool will become. Over time, . . .
Read All
Posted in Lutheran Blogosphere | Tagged abortion, Conscience, Ethics, Eugenics, Infanticide, Life, Margaret Sanger, person, Personhood
For you created my inmost being; you knit me together in my mother's womb. I praise you because I am fearfully and wonderfully made; your works are wonderful, I know that full well. My frame was not hidden from you when I was made in the secret place, when I was woven together in the depths of the earth. Your eyes saw my unformed body; all the days ordained for me were written in your book before one of them came to be. How precious to me are your thoughts, God! How vast is the sum of them! Were I to count them, they would outnumber the grains of sand—when I awake, I am still with you (Psalm 139: 13-18).. . .
Read All
Posted in Lutheran Blogosphere | Tagged abortion, Conception, Conscience, Ethics, Infanticide, Life, MSNBC, murder, Paul, person, Personhood, Psalm 139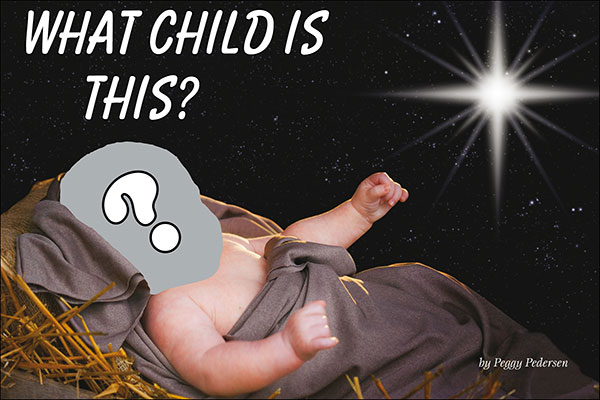 by Peggy Pedersen At this time of year discussions arise concerning the logistics of the birth in Bethlehem. What was the actual date? Was it a stable or house? What was the nature of the heavenly sign the wise men followed? And there are many other questions we may ask. While such questions help us to understand the scriptures more clearly, the most important question to be asked and answered, however, is: who was lying in a manger that night in Bethlehem? This is a question that has confronted the world for …
Posted in Catechesis, History, Lutheran Church -- Canada | Tagged Christmas, Feature Stories, Good Shepherd, Headline, identity, immanuel, Jesus Christ, king of the jews, Lamb of God, manger, Messiah, Nativity, peggy pedersen, person, redeemer, savior, saviour, Son of God, Son of Man, what child is this
Glory to God in the highest, and on earth peace, good will toward men. (Luk 2:14 KJV) When the almighty God created the world out of nothing, all the majesties celebrated and the children of light exulted. The universal oceans …
Continue reading →. . .
Read All
Posted in Lutheran Blogosphere | Tagged Angels, baby, birth, blessed, Christmas Eve, Incarnation, man, Mary, Mother of God, Nature, person, redemption, salvation, saviour