Browse:
Home
/
Steadfast in Seminary
$postcount=0;?>
The Apostle Paul instructs the young pastor Timothy to "wage the good warfare, holding faith and a good conscience" (I Tim. 1:18-19) and to "continue in what you have learned and have firmly believed" (II Tim. 3:14) while enduring suffering (II Tim. 4:5). Indeed, all who desire to live a godly life in Christ Jesus will be persecuted (II Tim. 3:12). Any encouragement to not wage the good warfare is harmful both to pastors-in-training and to the congregations they will serve. Yet, it is not uncommon that seminary students and vicars are steered to go against God's Word, the Lutheran Confessions, and their consciences instead of standing up for what is right and true. Sometimes, seminary students are told to . . .
Read All
Posted in Lutheran Blogosphere | Tagged seminaries, Steadfast in Seminary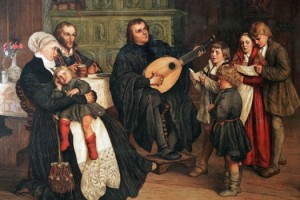 Since the word "vocation" is thrown around so much, I have been trying to work out in my mind and through study of God's Word how we may actually speak of and teach about vocation. The following reflects what I have been working through for a few years, and I would appreciate any input. Vocation is from the Latin word, vocatio, a calling. If something is your calling, then that means that God called you to do it; it means God told you to do it. And if God told you to do X, then it follows that he ordained and instituted the specific work of X. There are particular vocations, such as pastor, father, mother, husband, wife, and . . .
Read All
Posted in Lutheran Blogosphere | Tagged Steadfast in Seminary, Vocation
First, Objective Justification and Subjective Justification are not two different justifications, but rather two parts of the act of Justification. My brother David has put it well: Objective Justification = God justifies the sinner [through faith]. Subjective Justification = [God justifies the sinner] through faith. Objective Justification refers to the work of God in Christ as well as the proclamation of the gospel and administration of the sacraments. Subjective Justification refers to faith, which is created by that proclamation and receives the benefits. Subjective Justification does not refer to the administration of the means of grace. While it is true that when we speak of the application of the the accomplished act of Christ we certainly speak of faith, nevertheless . . .
Read All
Posted in Lutheran Blogosphere | Tagged Steadfast in Seminary
In arguing against the Huberian error that because Christ has redeemed all men he therefore elected all men, Hunnius maintains: But we respond from the start that we steadfastly teach that Christ, by the decree, counsel, ordination, good pleasure and command of the eternal Father, has freed each and every mortal, without any exception at any time or in any place, from sin, death and eternal damnation. ~ Aegius Hunnius, Theses Opposed to Huberianism: A Defense of the Lutheran Doctrine of Justification – Wittenberg, 1597, Translated by Paul A. Rydecki (Bynum, TX: Repristination Press, 2012), 51 (Thesis 152).. . .
Read All
Posted in Lutheran Blogosphere | Tagged Steadfast in Seminary, Uncategorized
Philip Melanchthon, Common Places: Loci Communes 1521, trans. Christian Preus (St. Louis:CPH, 2014). Common Places I have three reasons why our readers should purchase and read this new translation of Melancthon's Loci Communes of 1521, published by Concordia Publishing House, besides the fact that Luther called it worthy of immortality and of the Church's canon. While there are two other translations of this work, this is the first one by a Lutheran. The translator is my brother, Dr. Christian Preus, who not only hails as a young yet good scholar in theology as well as an expert in the Latin language (he has a PhD in Latin and Greek), more importantly actually believes and holds to these theological truths . . .
Read All
Posted in Lutheran Blogosphere | Tagged melancthon, Steadfast in Seminary, Uncategorized
Forensic justification is that God makes us righteous by crediting to us the righteousness of Jesus. He doesn't make us righteous through a process that he works inside of us. What He works inside of us is a consequence of applying to us the full obedience of Jesus, which He rendered to God on behalf of the whole world. Speaking of the imputation of Christ's righteousness is the positive way of speaking of the non-imputation of sins. For Christ's sake, God does not impute our sins against us, as St. Paul says in 2 Cor 5:19. Paul writes in verse 21 that the result of Christ becoming our sin is us becoming the righteousness of God. In the context, this . . .
Read All
Posted in Lutheran Blogosphere | Tagged Forensic Justification, Justification, Steadfast in Seminary
"These are Your Words, Heavenly Father. Sanctify us by the Truth. Your Word is Truth. Amen." I cannot count how many times I have heard this prayer. My dad, who was my pastor for the first eighteen years of my life, often used this prayer before his sermons. This prayer, which comes from Jesus' High Priestly Prayer (John 17:17), is very much connected with the first petition, "Hallowed be Thy Name." We learn in the Small Catechism that God's Word is kept Holy When His Word is taught in its truth and purity and we as children of God also lead godly lives according to it. We pray that God would help us to this end, and we pray that . . .
Read All
Posted in Lutheran Blogosphere | Tagged Steadfast in Seminary
Behold With Faith God's Only Son! O Sinner, come thy sin to mourn So vast and vile that it has borne Christ to this vale of anguish. Son of a Virgin, sweet and mild In poverty the Holy Child Thy substitute did languish. Behold with faith God&#821…
Posted in Lutheran Blogosphere | Tagged Steadfast in Seminary, Uncategorized